Oh look you've found the ghost text. Lucky you, just to say I hope at least one person reads all the way through this. As it is rather too long but hey, only 50 odd people will read the review so I doubt any will bother. Ah well...
.
___________________________________________
___
​
[HEADING=3]

A Stranger presents...

[/HEADING][HEADING=1]Call of Duty: Modern Warfare 2[/HEADING]

[HEADING=2]

_________

...and why everyone else is wrong

[/HEADING]
[HEADING=1]

Space filler

[/HEADING][HEADING=2]

"So why are you reviewing this game?"

[/HEADING]

Many reasons. Firstly the amount of reviews that I have been bombarded with about this game is frankly stunning, but rarely has a balanced one caught my eye. I agree that frustration may drive many to slander hatred at this game but frankly, I'm sure a lot of you are still playing it. Secondly, the Call of Duty series has taken away a lot of my life, so I feel as though I can speak as someone who has seen every element of this game that there is to see. I will be reviewing all aspects of this game, but will go into depth with the parts I think have been misrepresented by the people who've reviewed this game before me.

[HEADING=1]

Unlike Yatzee

[/HEADING]

[HEADING=3]

...So let me borrow some of your time.

[/HEADING]
_
___
[HEADING=1]

______________

Multiplayer [/HEADING] [HEADING=3]

...the main source of all the hate

[/HEADING]
This picture sums up most of what people try to tell me over the internet. That MW2 will always be inferior to the first one. But what we have to remember about these two games is that they are essentially different. The people at Infinity Ward did not simply paint over the first Modern Warfare, instead the completely redid it from the ground up. So people will probably prefer one or the other, resulting in many one sided reviews.

What the MW2 online experience gives us is a rather spectacular feet. Dozens of guns, customisable equipment, a great selection of maps and a whole host of game modes to choose from. There is literally something for everyone that enjoys FPS's, but with a lot of choice, comes a lot of chances for slip ups.

The CoD:MW2 multiplayer is very unforgiving, one quick spray from any gun one the game is enough to kill you. As a result everything you do is down to milliseconds. If your reactions are slightly too slow than that's it *bang* you're gone. This results in a brutal feeling as you are punished for almost every mistake you make. This is the primary reason why so many people hate this game. But, on the other hand you respawn instantly and go straight back into the action, although sadly only to repeat the same mistakes you have made before.

There are simply so many things that can kill you on this game: guns, grenades, throwing knifes, knives, exploding barrels or the dreaded killstreaks [footnote]We'll get onto the killstreaks soon I promise[/footnote] Variety and unexpectability are key parts to the whole experience as everyone plays the game differently. Go for stealth with the silenced sub-machine gun or run in with a fully automatic AA-12. You have to be prepared for everything and in theory (sometimes practice too) this is a great thing. It helps keep the game interesting and is the reason why over 4 months after its release, hundreds of thousands still play it. The big downside to this is that the new players are petrified of moving out into the open. Because as I've said, one wrong move and *bang*. This results in what many call 'camping', a tactic of staying in one room or spot, aiming at the point at which people are most likely to appear. But to be honest, this doesn't occur too often and when it does it is easily remedies, one grenade and....[footnote]*bang*[/footnote]

The guns themselves come in many shapes and forms. From the standard M4 assault rifle to the Javelin. When you Create-a-Class you can pick one primary weapon and one secondary. The primary weapons will be assault rifles, sub machine guns, LMG's, sniper rifles or a riot shield. And I'll say this now and put it in bold that none of these guns are overpowered . They just require you to use them differently. I'll use the ever popular ACR as an example, it's deadly accurate at long range but if you have it and come across a sub-machine gun at close range your fucked sonny. The secondary weapons consist of machine pistols, pistols, launchers and shotguns. All of which have their own positives and negatives but I won't bore you with them. Only remember that the launchers are secondary weapons and then we'll move on.

Killstreaks, oh god here we go. Join a game and there's a chance you'll join a match where the other team have two harriers in the air, a chopper gunner and an AC130. Basically you're fucked. The problem with killstreaks is they turn an already uneven match into complete domination. They were fine in the first Modern Warfare where the most you had to worry about was a pretty useless Helicopter but now you have planes capable of killing a while team in one shot. The argument is that you can simply shoot them down using launchers but think of it like this. You can have a launcher or a shotgun... hmmm I wonder which one you're going to go for. Sure switch classes when you die but by that time it's already killed you!

But after all this it's still a lot of fun. Sure it can get frustrating but when you jump off a building into the opposite building's window and kill the three men inside it you tell me that it wasn't amazing.
_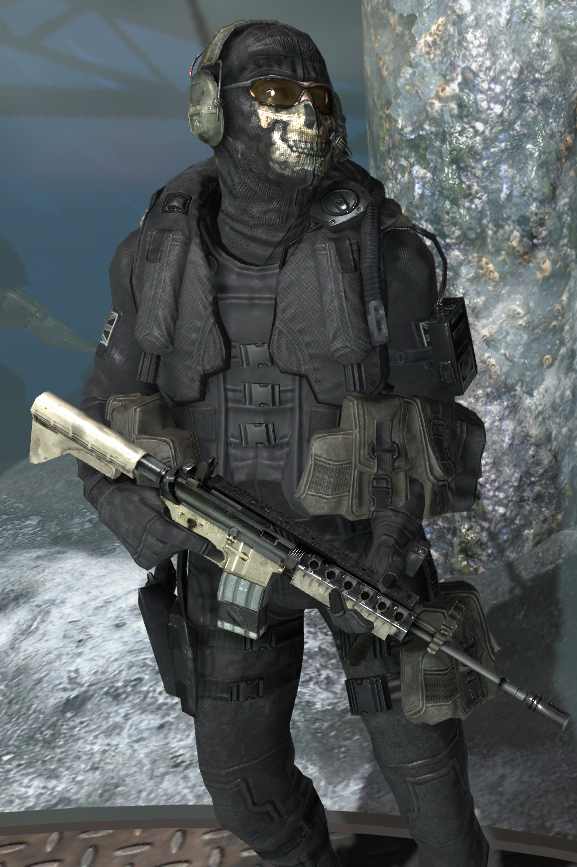 __-
​
[HEADING=1] Singleplayer [/HEADING] [HEADING=2]

________

"Remember, No Russian."

[/HEADING]
Now, for all of you that are still reading, we come to the singleplayer. This is an area where MW2 has to live up to it's predecessor once again. So in my mind Infinity Ward got together and decided to go forward with something they liked to call "every action movie ever made but x1000". And well I have to say that it actually works in a round about way.

So did you come to Call of Duty:MW2 for relatable characters? No I thought not, and that is good since you won't really get any. But what you get in their place are some insanely cool ones. You can see Ghost on the right, a figure of much intrigue but he's basically been shown to be Gaz from the first Modern Warfare. Also we have Captain Price, another character who Infinity Ward couldn't let go of. He has a moustache, a harsh British accent and is incredibly ruthless. So he's also very cool.

You will probably heard people ripping into the story and exposing all its plot holes in their wonderfully obvious splendour. But while a deep storyline would have been nice, it wouldn't have allowed for so many great levels. One level you are attacking an oil rig from underwater, another you are stuck in a downed helicopter making your last stand, in one you are sneaking in to a base in the Arctic and then there's one where you stroll through an airport, mowing down civilians.

All of these things come together to make a truly great experience, the word here is EPIC. Though there are parts where this fails, there is a part where your character is killed and you see it through his eyes and frankly I didn't care at all. Nothing had indicated that this character was anything more than some hands carrying a gun so I simply did not mind that he was shot in the chest only to be replaced by another pair of hands with another gun. In fact, throughout that sequence I was waiting for it to hurry up so I could play the next level.

Also the Campaign is rather short, coming in at under 10 hours for me. Which is criminally short but I'll forgive it as the emphasis in this game is on the multiplayer. But on top of this there was no reason for me to replay it for anything other than trophies, which do not attract me. While there is Intel to collect you do not unlock cheats by finding them.

I want to talk about the ending, almost desperately so. But I do not want to ruin anything for the sorry few that have not purchased this game.
_
___
[HEADING=1]Spec Ops [/HEADING] [HEADING=3]

_____________________

A lovely little suprise

[/HEADING]
Spec Ops puts you and a friend to the test. There are 23 levels that range from easy to impossible and vary from racing snowmobiles down a hill to fighting your way through an oil rig full of mercenaries and juggernauts. To be honest, when I first heard of Spec Ops I thought it would be a bit of a gimmick and it isn't. It provides a nice extra ontop of the single player that can provide hours of wonderfully frustrating 'just one more go' hours while you try and beat your 13 second best time on a breach of a locker room.

The main use of Spec Ops however, is as a way to make up for the lack of a two player campaign. And I am highly satisfied with this. I can now do something other than taking turns on the multiplayer when a friend wants to hop onto MW2. Many have already said it but it makes even the most casual players take the game very seriously, calling out phrases such as 'tango 12 o'clock', or more likely 'Ohhh shit it's a Juggernaut!'
[HEADING=1]Overall [/HEADING]

An absolutely brilliant game that will literally steal weeks from your life, however it is let down by the little things that prevent the game from being perfect. And thanks to the lack of a beta, these little things are still cropping up all the time. But don't listen to the people who rant and rave about this game because they expect to be God-like when they play multiplayer, this game is well worth a purchase if you haven't already.

[HEADING=2]

Thanks for your time.

[/HEADING]

Thanks to [user]domble[/user] for the idea of the format. Takes quite a while to do though.

B:BC2 demo [http://www.escapistmagazine.com/forums/read/326.176510-Review-Battlefield-Bad-Company-2-multiplayer-demo]
Borderlands: Secret Armoury of General Knoxx [http://www.escapistmagazine.com/forums/read/326.178018-A-Stranger-reviews-General-Knoxxs-Secret-Armoury-Borderlands-DLC]

Yes, I have done other reviews, but none of them on games so if you really want to see them put 'A Stranger Reviews' into the search bar, thanks
As you can see I spent an awfully long time on this. So feedback, in every shape or form (even to say "It's shit") will be gratefully received. Thanks yet again.