Note: this may contain minor spoilers.​
Well, well, well, let's stretch the old writing muscles, shall we? Now, all two of you readers may be wondering why my triumphant, important and in no way inflated return is a retrospective rather than my typical reviews. Well, I've decided to mix things up a bit, as I feel that my scribblings have gotten slightly stale in their layout. After just 4 pieces, that's not good. So, I have elected to write a retrospective. Now, I'm not entirely sure what a retrospective is, but I have a gut feeling that it's more akin to writing about a game as opposed to taking it apart critically. I would never be able to critically analyse Okami without just devolving into fanboy-fueled Okami raving, with glowsticks and good times all round. Okami, as I'm sure you all know[footnote]And you should ALL know![/footnote] is my personal favourite game of ever, and I've never really managed to gush properly. I've pimped this game all over the forum, no matter the question, for example, the other day forum user Renamedsin [http://www.escapistmagazine.com/profiles/view/Renamedsin] asked which was better between Oblivion and Morrowind. I, of course, answered Okami.

My awe-inspiring Okami pimpitude has led to my going over specific parts of the game, be it the music, the ending, the story, the characters, the gameplay, hell, everything about this Amaterasudamn game I must have pimped out at some time in my two year career [footnote]That rhymes, sweet.[/footnote][footnote]Yeah, I tried to search through the forum to find all the posts I mentioned Okami in. It took a while and was not worth it.[/footnote] here at the Escapist, and for good reason. Good reasons. Great reasons. Glorious, beautiful reasons. Tortured analogies and impossibly fantastic reasons. I like to think that this here project will be the peak of my Okami fervour [http://en.wiktionary.org/wiki/fervour], but rest assured, my one fan[footnote]I'm probably exaggerating even with that. Sigh.[/footnote], I will mention it many times after this. My Okami love has hit fever pitch now that I realised that I just bought a DS, and also just realised that Okamiden is COMING SOON YES.
So, I went back and played the original. It is better than I remembered. And I remembered it eight times over two generations and three copies.
More like, "plaguing our sales", amirite?
​
So, with that, let us begin.
Okami is the story of Amaterasu and Issun. They fight demons. Set in the mystical land of
ancient Japan
Nippon, the artistic pair travel to varied villages, serene cities, mountainous mountains, fieldly fields and coastal coasts, driving back the demons, darkness and dread plaguing the lands. Amaterasu, as the sun Goddess, was called upon by the Wood Sprite Sakuya to assist in battling Orochi, who is in the process of being resurrected... hang on, let me start from the beginning.
Long ago[footnote]Read: only a century ago[/footnote], nestled in the corner of Nippon is a small hamlet known as Kamiki Village. The village boasted happy people, clean streets, no crime, beautiful blossoms and the ritual sacrifice of a young woman. Oh, and world famous cherry cakes. You see, Kamiki is cursed by the demon lord Orochi, an eight-headed serpent with eight nice hats and eight elemental powers[footnote]This is the point where Clover started making up elements. I'm sorry fellas, you know I love you, but poison is not an element.[/footnote] and he's
hungry
. Hungry for attractive women. Every year, a single white-plumed arrow would plunge deep into the house of the chosen sacrificial maiden, thereby giving her one night to travel to the Moon Cave, Orochi's dark lair and home to the many goofy demons of the land. She is then devoured and Kamiki is allowed to survive. How they got that many maidens for an annual sacrifice in a village of four one-room houses, I'll never know.
A sampling of Orochi's nice hats. Oh yeah, and his evil.
​
Enter a white wolf. One year, the village was greeted by a villager. The wolf, dubbed Shiranui engaged in nightly patrols of the village, scoping things out and sniffing around. Feared as an agent of Orochi, Shiranui kept to itself. One year, the secret love of the warrior Nagi, confusingly named Nami, is chosen as Orochi's main course. Nagi, understandably, is enraged to the point of raging rage, and storms out to the Moon Cave to tell Orochi to shove it up its eight asses, or wherever an eight-headed serpent lord would be want to shove things. The two battled throughout the night, but Nagi's sword had no effect. Enter Shiranui, saving the day with kickass paint powers, but still Orochi stood/floated. Shiranui nearly collapses, "its white coat stained crimson"[footnote]PS: The most badass description ever![/footnote]. Nagi steps forward once more as the moon shines down into the cave. Moon-magic allows them to take Orochi down, but Shiranui collapses. It passes on back at Kamiki, and is later enshrined in the village along with Nagi.
And that's just half of the opening cutscene. This is already longer than most of my reviews, and I've only explained the partial setup. Anyway, history has a nasty way of repeating itself, and, one hundred years later, a world class buffoon patially unleashes Orochi and its darkness spreads across the land in a cloud of obviously evil red mist, turning villagers to stone and kicking bunnies. You are then summoned by Sakuya and revived in the form of a badass white wolf and you are quickly joined Issun, an inch-high, glowing wandering artist with a penchant for climbing into women's clothing and describing puzzles in unnecessary detail. After a quick tutorial, you are given the Celestial Brush and a few techniques.
"Yawn... geez, will you get on with it already?"
​
No I will not get on with it, first-screenshot-I-found-by-googling-"sleeping Amaterasu", I'm not done with the story.
After meeting the "Great Worrier" Susano and a very different Quick Time Event, you're off. Those pesky brush gods went and hid away in the stars once you, as Shiranui, were defeated long ago, and you must find them. Walking out of Kamiki to a field under a deep curse, you stumble into Hana Valley, where you find your most world-changing technique: Bloom. Bloom allows you to revive trees and patches of cursed ground. Most importantly, however, is the ability to revive the Guardian Saplings. Powerful beacons of natural power all linked to the Wood Sprite Sakuya, the Guardian Saplings have become weakened by Orochi's curse and you must revive them to continue. What follows after a revival is a certifiably gorgeous[footnote]DISCLAIMER: Not actually certified. Consult art student before viewing.[/footnote] cutscene of all your efforts paying off in a stunning way. Cursed mist timidly scurries away, revealing tall trees, green grass and hungry animals. Have a watch will you? [http://www.youtube.com/watch?v=U-gabOwPk1c] Also shown: everything that's right with the world.
So, Okami's storyline, eh?[footnote]Clunky segue, HOOOOOOOOOOOOOOOOOOOOOOOOOOOOO[/footnote] I love it. There is simply no other way to describe it. Okami's characters are all charming and well realised, even without any kind of voice acting or facial animation aside from a disturbing squishy head animation when they speak. Even this comical mechanic does nothing to detract from the emotional climaxes in Okami, of which there are many. An average Okami play session, which right now is about 2 and a half hours at a time whenever I start playing[footnote]Shared televisions for the lose.[/footnote] will cause an emotional response (typically in the form of goosebumps) an average of 20 times. Not exaggerating. The dialogue is so good that I sometimes wonder if it's actually a translation. There are extremely emotional moments in Okami, lots of heartsring tugs and sad moments to fill your tear ducts with the salty sadness and equally powerful, happy moments. The end sequence in particular is such a concentration of every emotion that I cried
during the final boss battle
[footnote]Mock me, internet, for I have cried![/footnote] and all the way through the ending.
An emotional rollercoaster, if you will excuse a tired old metaphor, sums up Okami then.
Now, let me take a moment to indulge myself.
Okami could very easily have been split into three or four games. What I mean by this is that the game reaches several very clear endings... and then the game keeps going. This is not a negative thing for me at all. As someone who is very satisfied with value for money, Clover's design is a godsend. Three games in one, I thought, thank heavens! It seems that Clover made the first third (or quarter or whatever) and, well, here's what I think went down:
"Hey Ted!"
"What!?"
"You, uh, got all those ideas for Okami sequels?"
"Sure, can't wait to make a trilogy like we planned."
"Ted, I hate to break it to you, but this is going to be a cult classic. We ain't gonna be making any sequels."
"But... but..."
"But listen, Ted, I have an idea. Get all those sequel storylines, and put 'em all in, back to back."
"Gee, I dunno Gary, 4 ten hour games in one? How's this gonna market?"
"WE HAVE NO MARKETING TED! Let's just never speak of this."
"Somebody better appreciate this."
And I do. Okami clocked in at a very respectable 40-50 hours for me my first time through. Subsequent runthroughs normally check in at the mid-20 hours, which I feel is the perfect length for Okami. It never outstays its welcome and constantly barrages you with new ares to explore, new characers to interact with, new items and weapons to use and new brush techniques to try out. It feels slightly disjointed at times, as characters from different acts rarely mingle, but it works.
Speaking of working[footnote]Clunky segue, HOOOOOOOOOOOOOOOOOOOOOOOOOOOOOOOOOO[/footnote], let's talk about gameplay.
A Goddess' brush in action. BRUSH, I said BRUSH.

​

The game centers around the Celestial brush, Amaterasu's tail and magical paintbrush that gains many kick-awesome powers throughout the course of the game. Each power is represented by a different Celestial God, from the utterly and unashamedly badass

GIANT

WHITE

AND

CRIMSON

TIGER WITH

LIGHTNING-BOLT

CROSSBOW

[footnote]Note: You may have just grown a handlebar mustache just by reading this. Even the women.[/footnote] to the equally badass and in no way overly dramatic

ENORMOUS

WHITE

AND

RED

SHEEP THAT GIVES YOU MISTY BULLETTIME. ALSO THE SHEEP IS

DRUNK

.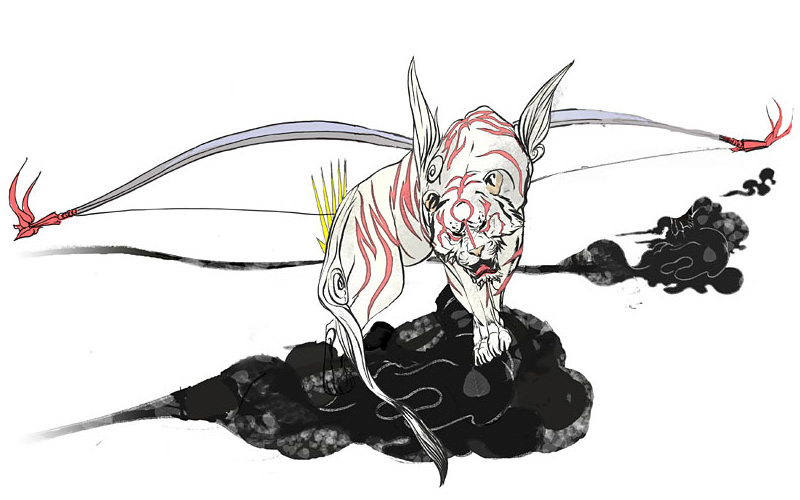 From this...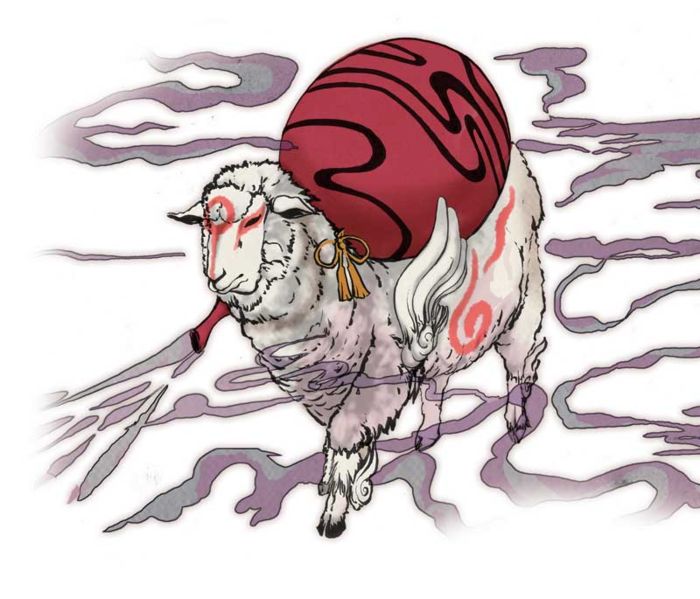 ... to this. MOVING ON.
​
So, each God gives you a power at a convenient time at which you need it to proceed. You find Gods in the strangest places, from a mile high feline tower to inside a specific bottle of booze, the darn things pop up randomly and it is always a thrill. "What will I get next?", is a dominating thought whenever the light dims, the stars sparkle and a familiar flute tune invites the next God onscreen. A backward join the dots minigame soon follows as you restore a constellation with your inexplicable ability to call stars into existence and you are treated to a short introduction to that particular God, sometimes funny, such as when the God of lily Pads (?) belly flops onto the camera, and is seen writhing around in pain through a cracked lens, and sometimes adorable, such as when the cat God of Walls (again, ?) and Ammy bat around Issun in a flowery field. For the remainder of the cutscene he is dizzied on the ground.
Combat is a little bit different. I guess it could be described as a mix of God of War-style (really) combos and upgradeable weapons and moves and Devil May Cry arena fighting. Moves can be purchased and upgraded at Dojos across the land, and weapons can be bought and upgraded from the many merchants and traders across Nippon. Once in combat proper, usually by way of coming into contact with a wandering, colourful scroll, malevolent in its neon-purple audacity, you are shrouded in a weird soul-curtain and demons sprout from the ground. The enemies start at odd and end at bizarre. A green chimpanzee-esque imp with a scrap of paper and symbol on its/as a face? Okay, I guess that makes sense. A blue teapot/monkey/turtle/velociraptor creature that launches boiling water from its teapot shell's lid when struck?
What.
A silver clockwork OWL, with a bomb-spewing top hat, cane and and monocle. WITH A SLOT MACHINE IN ITS CHEST!?!?!?
Each enemy type is fun to fight and has a particular weakness and technique to beating it. Sure, you could just smack that igloo monster with a holy mirror until it burst into flowers, or you could melt its protective shell with its flaming tail? Discovering the key to beating the higher ups keeps the combat fresh and exciting and there are plenty of enemies to be fought, as attested by the lengthy and exhaustive bestiary, detailing each enemy with a description and a gorgeous traditional Japanese portrait. And the boss battles... well, they're something else. Although disappointingly rare and sadly repeated, the boss battles are highly entertaining and each offers a unique experience and requires a unique method to taking them down. One boss needs to be intoxicated before he can be taken down whilst another needs to be split into several lesser forms and taken down that way.
That offhanded remark about the bestiary has got me thinking.[footnote]And by thinking, I mean moving on to my next planned point.[/footnote] Thinking about Okami's staggering attention to detail. Each enemy is introduced with a beautiful piece of artwork that looks like it's been taken straight from ancient Japanese mythology. Powerful story points are punctuated with pleasing paintings, producing plenty of pleasantry[footnote]Well aware that doesn't mean "pleasant thing", thank you, I was just at a loss for alliteration.[/footnote] or perturbation depending on the situation. Whilst it is unnecessary, as that job could easily be handled by a cutscene, the choice deftly counters tedium in storytelling by recapping events whilst adding artistic appeal. Other stylistic choices offer a cohesive sense of place in the world, such as Issun hopping up and down in front of interactive objects, or grass and flowers sprouting from Amaterasu's feet as she accelerates.
What a lovely time it is, then, to discuss the presentation.[footnote]Hey, that segue actually works![/footnote]
Okami's art style is rather a lot like this. So much like this, in fact, that I'm starting to get suspicious.
​
Okami is a thing of beauty to watch in motion. It all gels together in the style of a painting, thick black lines highlighting objects, allowing them to stand out from their watercolour surroundings. A rather pleasing minimalistic background focusing your full attention on appreciating the world in front of you. Impressive and smooth animations bring a painting to life, to briefly sound like a soulless corporate ad-man, and allow the characters to shine outwith their dialogue alone. The art style gels so seamlessly with the storyline entrenched deep within Japanese mythology so well and so effortlessly, it is a case where graphics really do add to the experience.
But the real star of the presentation is the music. The fact that there are 4+ (I forget) discs to the soundtrack, with most tracks exceeding three minutes, should tell you about how important the music is in this game. All of it is excellent, all of it is placed perfectly and all of it has a distinctly Japanese vibe. Not just that, but somehow they've managed to mix in different musical styles all whilst using traditional Japanese instruments. Have a listen to but a few tracks, won't you?
There's ancient Japanese hip-hop, for example, in the pyrotechnician's theme. The use of fireworks as an instrument is a welcomed touch.



Then there's the pleasing and inflated Sparrow Boss' theme, getting across the character's bulkiness in the percussion, as well as his importance to his underlings, with the chirping in the background.



Our next sample comes from a digging minigame, highlighting the urgency in the event and pushing you forward... more like down, come to think of it. Pushing you down.



Our next sample is the great Competition with Idaten theme, which is played roughly three times in the game, and during an optional sidequest at that. It really drives home the speed of the race, as well as the wolf and human voice samples bringing the characters of the competitors across as the bassline emphasises each step.



Our penultimate sample is the game's glorious final boss theme. It is very much an inspiring remix of Competition with Idaten, and an excellent example of how boss theme's should be. After a few crushing moments during the end sequence, the theme plays as the final boss takes on its final form. A real sense of importance and triumph is brought to the forefront with this theme. An inspirational and triumphant boss theme is all too rare in games.



Our final sample is played over the emotional climax of the game, which I shan't spoil here. The emotion is heavy here, with happiness and sadness colliding to eventually move onto triumph. A truly beatiful piece that deserves full attention. Seirously, stop reading this and listen to the whole thing, goddammit.

​
I have had to seriously restrain myself from posting the whole damn sountrack here, these are but a few samples. I seriously recommend looking up the Soundtrack, it's well worth a listen. If YouTube wasn't being Mr Sillypants and not giving playlists their own pages anymore, I would link you fellers straight to it, I sure would. The most important part of the soundtrack is that it conveys emotion. Really, what would already be a sad scene would have it's impact trebled by the inclusion of one of Okami's many great tracks. I can think of no fault in the soundtrack, really I can't. I just wish it would be brought out of Japan... a boy can dream, can't he?[footnote]No, he cannot.[/footnote]
Whilst I'm firing on all emotional cylinders, let me bore all of you with that inevitable topic that is brought up in any Okami-related discussion: art. Now, we all know that art is subjective. True art, as they[footnote]Read: I[/footnote] say, is in the eye of the beholder, if you'll excuse a bastardisation of a popular saying. But for me, and I'm sure for a lot of people, art can be a piece of writing, a sculpture, a piece of media, whatever; the only important thing about art is that it insights an emotional response. It can be happiness, sadness, hell, even comedy, but so long as it insights a response, I feel that it is important. It is with this viewpoint that I deem Okami as art.
Yes, yes, the style of Okami is inspired by art and mythology, but that is not all that it is, albeit it is the most discussed piece of Okami. Okami is a gorgeous style, yes, but it is also an engaging story, a beautiful soundtrack and compelling characters. It is fun gameplay, it is original setting, it is a detailed world. Okami most definitely incites an emotional response through many of its parts and it in this that the art is found. True art is found both in presentation and general gameplay.[footnote]Watch out for that General Gameplay. Sure, he's important, but he acts all high and mighty around Corporal Presentation.[/footnote]
What a lovely place to end, then? So there it is. Okami, my favourite game of all time.
A game where you gain experience points for feeding tigers.
Thanks fer readin'.