[HEADING=1]Dishonored[/HEADING]​
What do you get when you take the open level design of
Bioshock
, add in the stealth-based gameplay of
Deus Ex
, and center it all around a story filled with revenge? You get
Dishonored
, a first person action game developed by Arkane Studios and published by Bethesda Softworks. You can easily see what influences other games have had on
Dishonored?s
development by simply asking yourself what about it is original. I?m talking about mechanics such as unlocking special abilities and perks by finding hidden items scattered throughout the world and being able to avoid fights by finding an alternate means to achieve your goal.
One thing that does seem to be at least somewhat original, though, is the setting ? until you take a closer look.
Dishonored
takes place within Dunwall, the plague-infested capital of an island empire in the middle of a great ocean. Sound familiar? No? Ok, how about this. The society and architecture seems to be based on Victorian England, but the technology far surpasses what was available during that period. If what I just described sounds a lot like steampunk to you, you would be right. For all intents and purposes, Dunwall is steampunk, though all that advanced technology is actually powered by whale oil.
Yes, whale oil. I know it sounds crazy, but for whatever reason (which is never fully explained), whales have some sort of supernatural quality in Dunwall that allows their oil to generate electric power, and for runes and charms carved from their bones to bestow almost magical powers on certain people. People like Corvo Attano, the player character, who have been branded by an indifferent, god-like figure known only as the ?Outsider.?
[small]
I'm on a boat!
[/small]​
And that brings us to
Dishonored?s
story. Again, it is riddled with clichés. Corvo is the personal bodyguard of the Empress, and has just returned to Dunwall from abroad, where he was looking for a cure to the rat plague which has been running rampant through the city. Just after arriving, though, and before Corvo has the chance to deliver his report ? which almost certainly contained only bad news ? the Empress is killed, and the princess is abducted. Who is blamed for the assassination? Why, it?s none other than Corvo Attano, the ?Lord Protector,? himself. Not much of a protector is he? Maybe his title should have been ?Lord Failure,? instead?
After spending six months in prison for the Empress? death, Corvo is just a day away from his own execution when he escapes with the help of a group of people who believe he was innocent. From the safety of their base, the ?Hound Pits Pub,? they send Corvo out night after night on missions intended to destabilize the Lord Regent, the man who had ordered the hit on the Empress, and who now rules the empire in the stead of the missing princess until she is ready or willing to be his puppet.
[small]
Please don't turn around
[/small]​
Invariably, Corvo?s missions are to assassinate some key supporter of the Lord Regent, but here?s where things get interesting. There is no ?right? way to play the game.
Dishonored
is structured and each level is carefully designed so that people can play how they want. Want to bum-rush the first set of guards you see and lay waste to everything around you with your pistol and sword? Go right ahead. After all, Corvo was the Lord Protector, so he can go up against all but the largest gangs with no problem. Would you prefer to hide in the shadows and be the silent angel of death? With spells like Blink and Slow Time, they will never see you coming. What?s that? You want to use the rats in the streets as your spies and assassins? There are spells for that, too. No matter what your preferred style of play is,
Dishonored
has something to draw you in.
And the concept of there being no right way to play goes beyond simple abilities. There are straightforward paths to your target as well as multiple hidden paths that are sometimes so obtuse, you might have no idea how to get there without a guide of some sort. There is also always a nonlethal way to deal with your targets if the idea of straight up revenge isn't your thing.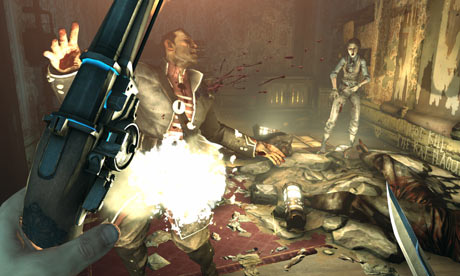 [small]
General Mayhem
[/small]​
There is one mechanic, though, that seems to belie the very idea of playing however you want ? the Chaos meter. At the end of each mission, a short scorecard will come on screen to tell you how many people you killed, whether or not you were seen, if you missed any collectibles, and so on. Just below the ticker for your kills is the Chaos meter. Based on your actions throughout the game, it will say if your Chaos is high or low. What this actually is telling you is if there will be more rats and guards in the next level. This almost seems to imply that the ?correct? way to play
Dishonored
is sneaking around and killing as few people as possible.
Despite this small flaw and
Dishonored?s
seeming lack of originality, it is a damn fun game. Quite often, I found myself flitting between both balls-to-the-walls action and sneaky stealth as I explored every nook and cranny of each level to discover everything I could. Sometimes I would go straight in for the kill, and other times I would plan it all out. It was this kind of freedom and all the character that went into the level design that really drew me in and kept my attention. Not even an inopportune autosave or the incredibly long load times were enough to dissuade me from coming back every time I died to see what I could do differently.
Game:
Dishonored
Developer/Publisher: Arkane Studios, Bethesda Softworks
Platform: PS3, 360, PC
Genre: FPS, Stealth, Action
Release Date: October 9, 2012
Reviewer: Michael ?candle? Mazzaferri
Score: 4/5
[small]Note: This review was based on the PlayStation 3 version of the game. Any differences between consoles should be minor and inconsequential to play.[/small]​