Doukutsu Monogatari, loosely translated to Cave Story, is a freeware 2D platformer for the PC. It was introduced to this game by the webcomic VGCats, perhaps one of the better things to come from that site for me.
In short, the game is a freeware, single-man-made 2D platformer set on a floating island. You play a small, bleach white block of pixels who has a penchant for guns and the shooting thereof. The game plays not too unlike the classic Commander Keen or Duke Nukem (before he started claiming "3D"), with a stronger emphasis on story and gameplay.
The game, much like it's name suggests, is Japanese. Or was, before someone meticulously went through with a translation, and did a wonderful job. The game is now available to English speakers everywhere, with a map editor, music editor, and alternative game built in.
You si'ly kids. Back in mah day, these was high resalutin' grafix.
The gameplay is your standard 2D platformer with action affair, without much emphasis on new and exciting. The only deviation from other platformers of it's type is a leveling system for the guns. As you kill enemies, golden crystals drop from their recently exploded corpse. Each crystal has an experience value, and collecting enough would level up the gun you were currently equipped with. Leveling up guns have different effects depending on the gun, but generally speaking increases the damage a gun dealt upon successful hit with enemies.
That aside, this game took what worked, and really ran with it. Something about the gameplay had me going back to it, regardless of how many times I'd beaten it in the past. The fact that I'm looking at my 6th or so play through with thoughts of interest and anticipation should be a testament to the quality of the gameplay, despite its simplicity.
I think the thing that really puts it down is the creative use of what's there, including jetpacks, the various guns, the creative use of items, and the interesting methods of defeating whichever enemy and boss.
The graphics hold their own, and look pretty fantastic if you reflect on the fact that they're were all done by the same individual, along with all of the music and gameplay, programming, and hell... Everything.
That being said, they are simple, so if intricate is you're thing, then you're shopping in the wrong aisle. The PS3/360 sections are two rows over. The simple, bright colors convey the scenery to a decent degree, and help you establish the setting, but not much else. The sprites themselves show more care, but even lack enough polish to really immerse you. Overall, passable, but certainly nothing to write home about.
Music is much the same way. The maker coded a music making program (provided with the game, oddly), and then made every song for the game. Given that this is such a fan-attracting game, and something of a cult following, there are remixes of the soundtrack out and about, if that says anything for the quality of the music. Otherwise, it's enough to help create a mood, but still leaves me feeling a little unfinished, or at the very least, unpolished. As such, it's a dimension that really hasn't been observed in enough depth. For what it was coded on, though, it's well done and interesting, with just enough quality to make me turn my media player off before turning this game on, which is more than I could say for some modern games (I'm looking at you, FEAR).
New... Load... FIRE!... Wait...
The storyline is a moderately gripping tale woven around the island, its inhabitants, the history, and the humans who stomped around breaking everything. It's difficult to describe the story without revealing one of the hundreds upon thousands of spoilers the game drops on your lap, so I won't. Just know its intricate, interesting, and worth the effort it takes to get from point "New Game" A and "Thank you for playing" B. It's certainly not on a hilariously epic scale, but its worth not skipping the cut-scenes.
Really, Cave Story is part gameplay, part experience. Both parts are strong enough to make the game, but combined they provide an experience that's not missing any of the the major purposes, with only a few hiccups in the quality of the music and graphics.
While I sit here on my soapbox and wax poetic, and you're waiting for the game to finish downloading so you can play this marvelous game that
NewClassic
dude keeps blathering on about, let me warn you of something. The game has a lot of interesting upgrades, items, guns, objects, who-sits, wha-sats, several endings, and even a hidden dungeon and boss. The only souring aspect of this is the fact that most of these are secrets you can't trip over. To access most of the game's features, you have to have a strategy guide spread across your lap to really make the most of the game's secrets, features, and storylines.
While I do think secrets are neat, there's very nearly no way to trip over these kinds of secrets unless you know about them ahead of time. So, run through the game once, then crack open your nearest gaming website/fansite/GameFAQs and look up how to get all of the other endings, because there's about a 0% chance that you'll get the best ending by yourself.
So, a fun run-and-gun platformer with unique design and inventive items, combined with a crafty and interesting story in a fantasy land filled with fluffy creatures, and old gun-making hermits.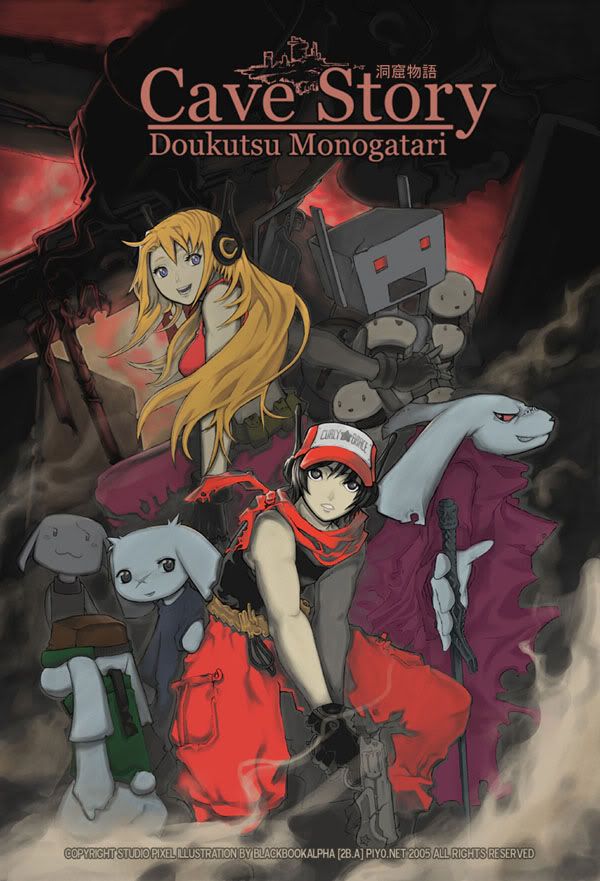 Next week, Cave Story the Anime... Naw, I'm just screwing with you.
Overall, a likable game that does a lot, worth the download, the time to play, and is fun while it's at it. If you like platformers, then you'll probably like this game. The flaws are few and far between, and the game does a good job of making a lot of fun out of a simple idea and simpler gameplay style. If you can make the original effort, you won't be disappointed in the long run.
[HEADING=2]Verdict[/HEADING]
Buy Download It
. It's certainly a fun game, well worth the effort. The only complaints are almost uniformly flooded out by the goods this game attracts. This is one of those games I would pay for, and can't stress it enough since it's free. What're you still here for, go get it.