Wait when did I get a sub
For those of you who are wondering what the hell Deja Vu is and why you haven't heard of it, suprise: this is a retro review! This adventure game was ported to the NES in 1990, and since a friend of mine happens to be a older games maniac, I got to play a copy a while back. Since I'm suffering from the accursed Writer's Block with regards to writing that Jade Empire review I'd promised (something that's been going on for SOME TIME NOW), I thought I'd do some finger exercises to work it off, and tell you guys all about this interesting little relic of the past.
Deja Vu's interface is rather simple: there are three basic screens you'll use on your adventure. One allows you to interact with the environment, another shows your inventory (or what a container holds), and the last is where you choose the type of action you wish to take (for example: opening, taking, or speaking to something). The graphics in the game are solid: you can easily tell what's what most of the time, and the typewriter effect on the text that pops up is pretty neat (especially when combined with the clicking noises that it makes as it prints out the letters). You'll quickly be fast-forwarding through most of the text though, as the game doesn't print it out very fast. That isn't to say that what's being printed is boring: most of it is pretty amusing in a dark way, especially when you choose odd interactions like using a gun on yourself.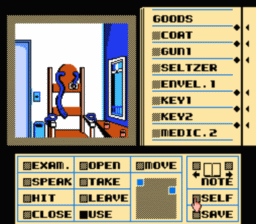 What on Earth? That party musta been crazier than I thought...
​
The story in these games is typically a critical component, and in that case Deja Vu starts out strong. You wake up in a toilet stall, devoid of all memories of who you are and how you got there. As you continue on, you find out that you're the fall guy for a murder and a kidnapping, and a whole load of people want you dead. It's very interesting at the start, when you have no idea who you are, but when you finally recover your memories it's a bit of a letdown. There really isn't much behind your character: all you learn about him is info gleaned from interacting with the items and environment. You'll still have some stuff after that to do: but I was really looking forward to hearing more about the person I was, and what my motives were. All you get is a rather rushed "
Heyyou'reAceHardingbye
," which leaves the player feeling rather unfulfilled and detached from the character for the rest of the game.
Deja Vu has a much bigger flaw than that though:
everything
wants you dead. You'll find that deathtraps lie around every corner, and the only way to figure out where most of them are is by trial and error. For instance, say there's an area that's out-of-bounds, and you walk into it by accident. Guess what? You just fell in a hole, and it killed you. ARE YOU SERIOUS? How can a goddamn hole, that's not even 10 feet deep from the sound of it, kill me? And why did I not notice this beforehand? The funny part is: this area serves
no purpose
other than to kill you. Why even bother including this? Moments like these are just sources of frustration, and since lots of little moments like this add up quickly, you'll find yourself getting angry at an exponential rate. This can get even worse if you forgot to save after a long time, only to bite the dust and have to start from scratch.
Another issue is the muggers. If you manage to get outside, a mugger will randomly pop up every once in a while and demand all your money. Well, since you'll need money in order to get to other special areas (by paying for a cab fare), you need to find some way of beating him, right? Well, I pull out my gun, and...
What? He somehow shot me first. Whoops. After about 20 tries, I finally found out that you need to
punch
him instead. Who knew?


Hey, asshole: FUCK. YOU.
​
Point being, Deja Vu suffers from the adventure genre's biggest problem: each problem often has only one correct solution. If Deja Vu followed this creed by itself, I might have been able to tolerate it a little more, but when the wrong choices typically involve death, the game becomes a nuisance if you don't happen to be fairly save-happy. The ending of the game is a prime example: if you just walk into the police station at the end, secure in your knowledge of who's framed you and with evidence in hand, you lose. Why? You forgot to dump all the evidence framing you. Even then, if you don't have precisely what the game wants at the end, it fails you, something that's rather disappointing after all the effort the player has likely put into the game by that point.
Luckily, when you know what you're doing, Deja Vu tends to be rather short. You'll find that all of your time will be spent in trying to figure out what's important, or what you missed. In fact, most of my time was spent backtracking to an old area in order to find something I hadn't seen before or forgot to open. It's also fairly linear: the only real puzzle that stumped me for a short time was easily solved via a quick inventory sweep.
All in all, I'd say that Deja Vu is worth a look at least. The story is good enough to draw you in initially, and adventure fanatics will dig the ability to get their game on in a noir setting. Just be warned: you'll be
required
to make multiple saves and several playthroughs in order to finally succeed. All in all, this game makes for a good afternoon's mystery, even though it falls a bit flat towards the end.
[HEADING=3]Editor's Notes[/HEADING]
I originally had a more controversial title planned, but I thought that it wouldn't fly. So therefore you get a pun. Don't like it? TOO BAD.
This Editor's Notes is also rather short. Oh well. Hopefully that damn block goes away soon and I can type that Jade Empire review. I really want to do it... it's just that other titles keep attracting my eyes, like Left 4 Dead, and then I think: "Damnit! I'd like to review that instead, since it seems to be generating a fair amount of controversy!"
Therefore, tell people to stop whining about Left 4 Dead, and I'll finally be able to get this Jade monkey off of my back. Please?
Hooray For the New Blood: An Unofficial Article. [http://www.escapistmagazine.com/forums/read/326.117338]
Manga Mashup #2: Prepared to be Schooled. [http://www.escapistmagazine.com/forums/read/326.115803]
Manga Mashup #1: Attack of the A's [http://www.escapistmagazine.com/forums/read/326.111313]
Braid [http://www.escapistmagazine.com/forums/read/326.110777]
Max Payne [http://www.escapistmagazine.com/forums/read/326.110027#1897580]
Indigo Prophecy [http://www.escapistmagazine.com/forums/read/326.108202#1817369]
WarCraft 3 [http://www.escapistmagazine.com/forums/read/326.107685]
Fallout 3 [http://www.escapistmagazine.com/forums/read/326.105151#1683250]
Mirror's Edge [http://www.escapistmagazine.com/forums/read/326.102291#1586312]
This may or may not have been submitted for a Review War, though the version I turned in for it was remarkably less cool.