Martintox Presents: Disorder Reviews
Rating System
----
MONSTER MUSUME: EVERYDAY LIFE WITH MONSTER GIRLS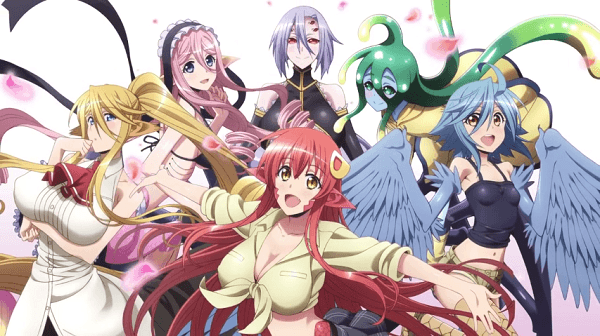 Director:
Tatsuya Yoshihara
Script:
Kazuyuki Fudeyasu
Music:
Hiroaki Tsutsumi, manzo
Initial Airing Date:
7 July 2015 - 22 September 2015
# of Episodes:
12
----​
It's often argued that the analysis of media as a reflection of social norms is a primarily western phenomenon, one which extends from an "unreasonable fascination" with sociopolitical schools of thought such as feminism and intersectionality. While this claim mainly serves to shut down conversations on the topic as opposed to expanding on the debate, it's perfectly correct as a statement of fact: The United States' origins as an immigrant nation, combined with its tumultuous history of territorial conquest justified by the principle of "manifest destiny" (to say nothing of segregation and other social injustices), has made it an ideal setting for thought and writing of the sort. Non-Western countries, rather obviously, have had very different experiences and perspectives in that field across history, and have thus developed values of their own -- it would be naive to think otherwise. However, it would be just as naive to say it's bigoted to discuss foreign media from an outsider perspective simply because of this cultural difference; a tradition has no intrinsic value based on the sole merit that it is a tradition. I feel that fans of Japanese animation take advantage of Americans' fear of cultural insensitivity to deflect criticism of shows that present dubious values; unfortunately for them, I'm a second-wave feminist, not a filthy intersectionalist.
Truth be told, if I merely wanted to look into Japan's stereotypical depiction of women's role in society as well as in relation to the male sex, I could have reviewed plenty of other anime instead of
Monster Musume
, some of which could be seen as even more egregious (
Rising of the Shield Hero
, which I may also review in the future, comes to mind). However, this show's approach is particularly interesting. In short, student Kimihito Kurusu inadvertently becomes part of an exchange program in which he must shelter various human-animal hybrids under the legal condition that he cannot procreate with them. Coincidentally, these liminal creatures are all female, and include a lamia, a slime, a mermaid, a harpy, a centaur, and so on. This is as far as the story goes: much of the series consists of Kurusu's attempts to help his guests integrate into society, as well as resist their persistent sexual advances. In terms of visual/audio presentation, it's your average mid-2010s anime through and through -- thus, the main appeal is the protagonist's predicament.
Although
Monster Musume
did not invent the concept of the monster girl in anime, it may well be one of the most popular examples of its usage. Many Japanese animated series that focus on relationships of the such have a tendency to make each member of the leading couple the near polar opposite of the other; since these shows (which are not limited to harem anime like
Musume
) are often meant for men, what results is that the male protagonist is more down-to-earth, whereas the love interest holds a whimsical or fantastical element that serves as the catalyst for the rest of the story. The "manic pixie dream girl" is a well-known instance of this idea, but what matters is that the two are metaphorically worlds apart, and it is primarily the female of the group that initiates the bridging of this gap. Although
Monster Musume
does not even go as far as to present an overarching romantic arc, given the supposedly comedic element of the premise, this dynamic is still present, as the multiple members of the proverbial "harem" ferociously vie for Kurusu's attention.
Beyond serving a mere narrative purpose, this type of contrast between characters makes it easy for a male viewer with little experience interacting with women to latch on to the narrative without feeling threatened by notions of responsibility or the such. In this sort of depicted relationship, the female is always proactive and willing to satisfy the male: case in point, much of the humor in
Musume
centers around the monster girls' sexual desire for Kurusu, who has the obligation to overcome his urges for fear of reprisal. It's worth noting that the protagonist himself does not display particularly misogynistic or otherwise exploitative behavior, but even so, an implicit statement is made: while the man understands the negative legal consequences of procreating, the women do not. The former is portrayed as a voice of reason, as well as a victim (albeit in a comical sense) to the desires of the naive and overeager females.
A stereotypical male anime fan would find such an idealized relationship (where well-endowed women do all the leg work in building it) profoundly appealing, as it would require little intervention on his behalf. Even when a female character asks something of the leading man, there are few meaningful stakes to these demands. Furthermore, if Kurusu's predicament serves as a set-up for many jokes, so can the emotional twists and turns of his partners; for instance, if one of them believes she has let him down in some form, her ensuing response of despair is meant to draw a humorous reaction, all the more so if this anguish is disproportionate to the cause of this possible disappointment. In sum, there is little danger in a hypothetical rapport of the sort, and a devoted viewer might find this unrealistic lack of risk as a sign of these fictional women's "superiority" to real women. When asked about the appeal of monster girls, some individuals on the internet may answer: "There's monster girls in real life, but there, the monster is on the inside."
It would be hard to consider
Monster Musume
outright malicious in its intentions, since it draws its comical elements out of the absurdity of its premise and the predicament of the main character (putting aside all the imagery clearly meant for sexual stimulation), but given its success as well as the presence of its characters in "waifu" discussions, it exemplifies in its own special way how media overseas can still reflect subtle forms of male insecurity. It would be condescending to believe that Japan don't know better, but it's certain that they have a long way to go when it comes to discarding these outdated social ideas. If the country that brought us the feminist landmark that is
Neon Genesis Evangelion
is also able to badly misinterpret it, then it is no wonder that it would continue pumping out shows like
Musume
.
----

PERSONAL RATING: **
RECOMMENDATION RATING: **½
LETTERED RATING: C-

----​