[HEADING=2]Dusty Reviews: Alpha Protocol[/HEADING]​
Alpha Protocol
, a 2010 "tactical espionage RPG" as it described by developer Obsidian Entertainment (I know my first two reviews on here are games by them. It's just a coincidence, not a trend) was a game I was looking forward to early last year. I almost even pre-ordered it, but - being very much aware of the developer's reputation - decided to hold off. Upon the game's release, it received an underwhelming response by critics and gamers in general. Was there a good reason for that? Well, we'll see.
First, here is some technical information. I am reviewing the Xbox 360 version of the game. I know a patch has been made available for the game, so I can only attest to how the game plays post-patch as opposed to how it did upon its initial release.
[HEADING=3]Story[/HEADING]​
You are Mike Thorton, a spy who been recruited to the titular new underground covert-ops government agency. Thorton is tasked with tracking down and killing or detaining a Middle-Eastern terrorist suspected of being instrumental in an attack on an aircraft. If this sounds generic to you, don't worry. This is just a set-up for a much larger plot that takes you all over the world. As you go around the globe, you get to meet a cast of characters who, although not well developed, are certainly interesting. I can't talk too much about the story without running into spoilers, but suffice it to say that the more you play, the more it
feel
like a spy thriller. It isn't as great a story as we've seen in games before, but is still a highlight of the game for sure.
Thorton himself is a more of a predefined character than the advertisements would have you believe. You can shake his headwear, hair, beard, iris color, and skin tone [footnote]changing skin tone and eye color is sort of odd when you think about it. Thorton goes in a bathroom and comes out a completely different-looking man.[/footnote]. His personality comes through in your dialogue options. The conversation system gives you a choice of how you want to say things. Obsidian has said that these options are modeled on the "three B's" of spy fiction: Bond (sarcastic, joking, suave), Bauer (harsh, direct, brutal), and Bourne (professional, tactical)[footnote]As a fan of NBC's
Chuck
, I?m a little miffed that the fourth B of Bartowski wasn?t included. I suppose I can get over it, though.[/footnote].Unlike a game like Mass Effect, you can mix up how you respond to a degree and still have it feel organic. You can also choose a single response type over and over, but it may result in you seeing Thorton as one-dimensional and dull.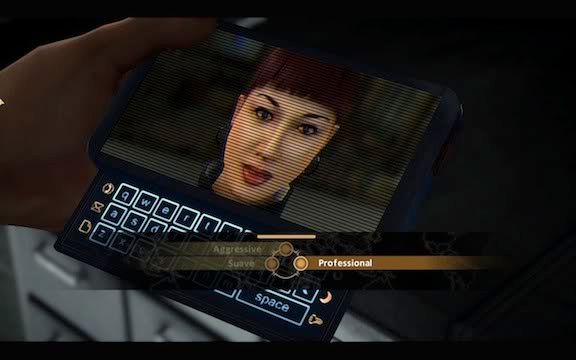 [h4]Dialogue sequences like this are timed, so make sure you're paying attention[/h4]​
There are also several instances in the game where you are given a choice in how to handle a situation. These are mostly well implemented, and do affect the game in both minor and major ways. This adds a good bit of replay value to the game, as I want to go back to it and experience the story in a different way. That the game gives you choice and does not judge you for your decisions is pretty refreshing. One gripe I do have with the story is that it could have used more of an epilogue just to close out some of the secondary characters' stories.
[HEADING=3]Gameplay[/HEADING]​
Alpha Protocol
also handles guns fairly well. This being a spy game, I made pistols my primary weapon with SMGs handy for when things get hairy. Each gun type (Pistols, SMGs, Assault Rifles, and Shotguns) each have their own personality. Pistols allow you to be an efficient and silent killer at close range. Keep your pistol focused on a target for a moment and the reticule will turn red, allowing you a critical and accurate shot that almost always guarantees a kill for headshots (Assault Rifles also have this perk). Pistols also have Chain Shot, a feature similar to Red Dead Redemption's Dead Eye. It allows you to pause the action for a brief period and line up a few high-damage shots. This ability, like other abilities in the game, has a cooldown time after use, so you won't be able to just spam it. With shotguns, you can use the weapon to knockdown enemies before taking a shot at them while they are on the ground. A cooldown-limited ability lets you knock down many enemies rapidly. SMGs do more and more damage as you repeatedly shoot enemies, making them effective for clearing out rooms should you trip an alarm. Its cooldown power makes it so you can continuously fire without needling to reload.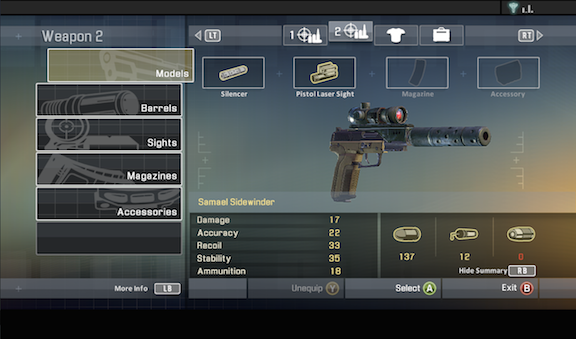 [h4]Mods often improve some gun stats while hurting others, so you can customize them to fit your play style[/h4]​
This being an RPG, you are given a choice of how to level Mike. This does affect the game drastically. You can pick a predefined class to start off or you can choose to be an Operative, an undefined class for which you can pick your own specialization. There are nine skills to choose from and they all have fifteen blocks to skill before you have mastered them. These skills are Stealth, Pistols, SMGs, Assault Rifles, Sabotage, Technical Aptitude, Toughness, and Martial Arts. If you have played the first
Mass Effect
, then it might feel familiar to you. Leveling these skills is how you gain special abilities and become more proficient at each specialization.
I preferred the stealth approach, but the game does no favors for this method, especially early in the game. Having played
Metal Gear Solid 4
immediately before
Alpha Protocol
did the latter game no favors here, but stealth felt very limited and underpowered. This changes later in the game, as Thorton learns skills to help him evade the sight of enemies, but it still never feels like stealth is as good as it could have been. I had a hard time not alerting enemies, especially in the first couple big sections of the game.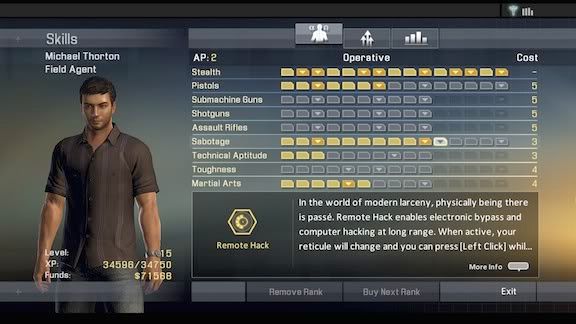 [h4]Some skills help in combat and some in the infernal mini-games[/h4]​
Luckily, Mike is a tank. This is partly because I invested in Toughness, but even on the beginning levels when I had invested little or no points in that skill, Thorton could still soak up a ridiculous amount of bullets. Should your health get low, you can have first aid kits ready on you or you can try to find one within the level (there are usually at least three in each level).
There is also a store accessible from any of your safehouses' terminals. Here you can buy new weapons, armor, upgrades, ammunition, first aid kits, or gadgets to help you get through mini-games and evade enemy detection. There is also intel you can buy to help you in missions (some intel provides stationary sniper rifles in certain parts of levels, others give you additional objectives and can lead to you making finding more money in levels).
The conversation system subtly allows an aspect of spy work that is often neglected in games: reading people. You can earn the trust of the people at your aid (and even some who are against you) by speaking to them in a manner they respect. You can gain bonus perks if they begin to trust you.
In combat, enemies are dumb. This seems to be a point critics love to pick on about the game, but AI is almost universally bad in games. Granted,
Alpha Protocol's
enemy AI is worse than most. At times, it seems as though all they want to do is charge at you and smash your face, but Thorton is much better at melee combat than pretty much any enemy in the game (even if you don't invest in the Martial Arts skill). Other times, they will shoot at you even though they have no clear shot. They will just stay in that spot while you sit safely and line up a instant kill critical shot of your own. It can cheapen the action at times. When enemies do dial up the difficulty, it is too often due to cheap tactics of their own. If grenade spam is a peeve of yours, be warned: they will throw and throw until it drives you mad. Then there are the boss fights, which are mostly versions of the basic enemies but with more health. They will run after you with vigilance. One of them, however, has a pretty unique aesthetic that makes for an entertaining fight. All in all, combat can be fun at times, but can also be frustratingly easy or annoying. It is worth noting that the last level of the game spikes considerably in difficulty.
Finally, we have our mini-games. With lockpicking, hacking, and bypassing, mini-games come in full force in
Alpha Protocol
. Their frequency is at times nothing short of astonishing. My least favorite one, the hacking mini-game, is something like a word search but with the irrelevant letters all constantly changing and leaving me cross-eyed. There is no way around them, either. You can ignore some, but you need to complete a good many to progress through missions. It is
very
annoying.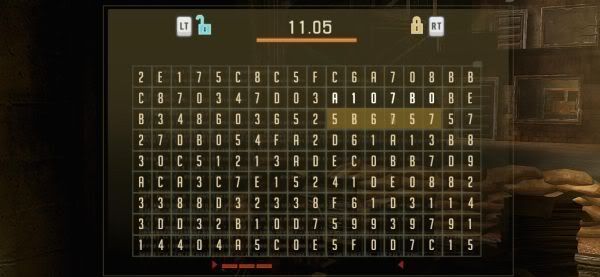 [h4]This screen will haunt you at night[/h4]​
[HEADING=3]Final Thoughts[/HEADING]​
So what is the final verdict on
Alpha Protocol
? It is far from perfect, for sure. It falls short on much of what it attempts. However, despite the game's flaws, I still had fun most of the time. I was still engaged by the story. The RPG elements are pretty good, the spy story works well, the choices have consequences, and you can warn guys about viruses that flood your computer with horse porn. I recommend
Alpha Protocol
. Now someone please give us more spy games. And let me be Chuck Bartowski.