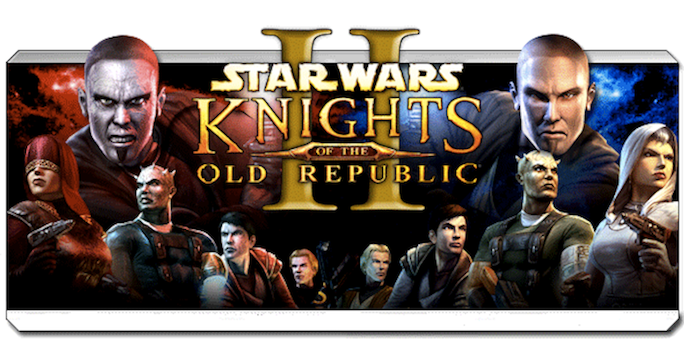 [HEADING=1]Dusty Reviews - Knights of the Old Republic II: The Sith Lords[/HEADING]​
Obsidian. That name to gamers conjures up feelings not unlike a teacher who witnesses a student squandering his great potential. The developer is known more for their lack of polish and abundance of bugs in games than they are for the stories and mechanics within those games. This is a shame, albeit an earned one. Obsidian Entertainment has given the gaming world well-crafted stories that avoid many of the tropes other developers are over-reliant on. This review is about one of those stories.
First of all, I must note that I am reviewing the Xbox version of Knights of the Old Republic II (KotOR II from here on out). Naturally, this means that mods, including the expansive restored content mod will not factor in my opinion. Also, this review will contain some spoilers for both KotOR I and KotOR II. I will try to keep them as light as I can, but spoilers will be present nonetheless.
[HEADING=3]Story[/HEADING]
KotOR II is a follow-up to BioWare's acclaimed Star Wars: Knights of the Old Republic, which is set thousands of years before the Star Wars films. To discuss the second game, it is necessary to make the setting clear. The first game told the story of some major figures in the Jedi civil War, a conflict that stemmed from the Mandalorian War, which ended only years before the start of the game. Jedi ideology plays a big role in both games, as these Jedi are different than the ones we are used to seeing in the films. The council of Jedi holds more strongly to nonviolent solutions and when an army of Mandalorian soldiers start a brutal invasion of planets throughout the galaxy and threatens the Republic (who the Jedi ally with), the council decides the appropriate course of action is to try diplomatic solutions rather than fight back.
Not all Jedi agreed with this judgment, however, and two Jedi in particular - Revan and Malak - set off to fight the Mandalorians. They urged others to join them in the war and their decision became a turning point in the war. The Republic soon won, largely due to them. But their decision created an ideological division between Jedi, and fighting broke out between the two sides, beginning the Jedi civil War. This is the environment upon beginning the first game, which is set in the middle of this war.
In KotOR II, you are one of the Jedi who followed Revan and Malak to fight in the Mandalorian War. It is made clear at the very beginning that the Jedi council exiled you for your choice and that you have lost your connection to the Force at the same time. You discover that a new Sith threat has come that is unlike any other that preceded, and you set out to both stop them and learn more of why you lost your connection to the Force, and why it is that you have suddenly started to feel it again. Aiding you in this quest is an eclectic group of individuals, including an aging woman who once was a Jedi herself - Kreia.
[h4]Some advice: Have her in your party always[/h4]​
Kreia is the heart of the story in the game. It is hard not to be in awe of her teachings, even if you don't quite agree with what she says. Keep her in your party and she will offer her philosophy ("advice" is too weak a word for what it is) on several matters you're encountered. She makes you question your actions and weigh them carefully. She might be one of the greatest characters in both games and the Star Wars universe.
The rest of your team all play their respective roles. Some you have a past with, either first or second hand. There are a few returning characters from the first game, one of which is still a joy to speak with and bring out to battle. They all have some unique dialogue when you bring them with you, and I find myself trying to get to know different ones better with each new playthrough. Interesting characters exist outside of your team as well. Many of them exist, actually. Several of them have a connection to your past and serve to continue a major theme of the game: Demolishing the Jedi philosophy and seeing what still stands.
[HEADING=3]Gameplay[/HEADING]
The combat in the game plays like the first game, but slightly improved. Skills are more useful and some valuable feats have been added. Finesse is my favorite addition. With it, you can have the higher stat of either Dexterity or Strength be the stat that determines your effectiveness with a given weapon. This allows greater flexibility in your team member roles. Some weapons (blaster rifles, specifically) are nerfed, however. While there are feats melee weapons, lightsabers, and blaster pistols that increase their effectiveness (attack modifiers, critical chance, damage bonuses), blaster rifles lack some of the comparable feats. The game also lets unarmed combat be a viable option (you'll likely have one team member in particular focus on unarmed fighting).
[h4]Force Lightning: Also great for makeshift barbecues.[/h4]​
Jedi Powers are still a joy to use. Though some buffing effects have a frustratingly short duration, they can make a colossal difference in battle. Force Wave and Force Storm are still as overpowered and insanely fun to cast[footnote]Really, do yourself a favor and go with a high wisdom Force user. You'll thank me.[/footnote]. Added to the your repertoire are Lightsaber and Force forms. These are abilities you learn from other characters as you progress that allow you more situational flexibility (Some lightsaber forms are better against other Jedi, some better against blasters, some against many enemies. Some Force forms make you more potent at the cost of extra Force points, and others allow you to regain Force points more quickly). There are many variables to work with in the game, and it's fun to tinker and see what works best.
The story excels and surpasses the first game, the combat is improved as well, but the game is generally seen as lesser than its predecessor. Why is that, you ask?
[HEADING=3]The Issues[/HEADING]
"GZZRKK!"
Get used to that noise. It happens often. Seriously, this game is marred with audio issues. Two minutes did not pass without hearing that awful sound. A few graphical issues are present as well, but not at a rate that surpasses most games these days. The most unfortunate issue in the game is with its story, however. It ends abruptly and without much of an epilogue. After a thrilling climax full of tension and conflict both external and internal, there is no satisfying denouement. It's just over. After 20-30 hours of mostly brilliant storytelling, the feeling you're left with at the end is one of dissatisfaction. You'll say, "This can't be it". But it is it.
[h4]And they still couldn't find all the missing pages[/h4]​
There are reasons for this of course, but knowing them won't make the ending better. I was willing to deal with the audio problems because the game was outstanding otherwise, but the unfinished nature of the game really detracts from the experience. However, KotOR II is stellar game and one that I highly recommend you try. Its a great experience, from the villains of near-mythological status to its more humble yet still powerful moments.
Oh, and...