Wait when did I get a sub
I was starved for some martial arts action around the time that I bought Jade Empire: I was watching Kill Bill reruns on TNT like my mother watches Lifetime movies. Seeking to sate my hunger for fists of fury, I grabbed myself a copy of Jade Empire off of Steam for the low price of around 10 dollars American. And you know what? I would have been willing to pay 20 for this game: it's a lost gem, even though it's got a few glaring cracks on display.
The story in any RPG is a critical element, and in that respect Jade Empire starts out strong and never slows down. It's an engaging tale set in some sort of magical Chinese dynasty: there are constant references to Eastern mythos and folklore, with the occasional bit of steampunk thrown in to spice things up. You play as a apprentice to an aged master, who is shortly kidnapped after giving you some cryptic words about your destiny and a magic amulet. With your master taken away by the Emperor's men, and your home in flames, you set out to rescue him and figure out the secrets behind your past. In true Bioware fashion, there are incredible plot twists and shocking revelations right up to the end of the game, and you'll never find yourself bored with it. The side quests are also well-done, and the characters that you'll find throughout the game are deep, interesting, and often humorous. To give examples, some of the characters you'll have join you over time include a little girl possessed by two demons, a mad inventor, a bloodthirsty brute, a freedom fighter, and a enigmatic ninja.
Yeah, you meet some... interesting people on your quest.
​
The environments and soundtrack are also incredible. Even for being a fairly old game, Jade Empire's graphics don't fail to impress, save for the cutscenes (which can be oddly grainy). The music of the game does a good job of drawing the player into the whole experience, and the voice actors for this Bioware installment do a excellent job at giving their respective characters personality. The game worlds are fairly linear, but they still offer quite a bit of exploration. Some areas are a real blast to run through, such as a creepy, haunted forest and a large, desolate graveyard. Throughout these areas you will find shrines: places to regenerate the three meters that govern you well-being, Health, Magic, and Focus. The spacing of these never feels out of place, and keeps the difficulty at a fairly decent level. There are also traps scattered here and there inside of containers, so you'll want to be careful about just opening chests willy-nilly, an element that adds a Indiana Jones feel to treasure hunting and exploring.
The combat in the game is an interesting affair: it's completely live-action fighting that plays out like a game of rock-paper-scissors. Every style has a quick attack and a strong attack (that takes time to charge up). Blocking stops quick attacks, strong attacks crush blocks, and quick attacks beat strong ones to the punch (pun intended). There are several different types of fighting styles to choose from: martial styles (your basic damage dealers), weapon styles (drain Focus when used, but are more effective), magic styles (they use up magic for ranged and area attacks), support styles (these allow you to put status effects on enemies or leech magic), and transformative styles (give you the ability to turn into crazy demons, but magic is drained FAST when you use them). You can hotkey these styles to the number keys, and can switch between them at any time. The issue that I find with the combat is that while it's a blast to play, the styles are crazily unbalanced, or have little incentive for you to use them. The prime example is the Jade Golem transformation: if you use it, you'll stomp over almost anything in your way. The magic styles
look
cool, but they're ineffective most of the time, and when you consider you could be using that magic to heal your wounds they turn out to be a detriment to use. The fact that weapon-based styles drain Focus early on is also irritating, when you consider that leveling them up enough gets rid of that trait. Still, the combat gets points for visual flair, and it never ceases to be fun.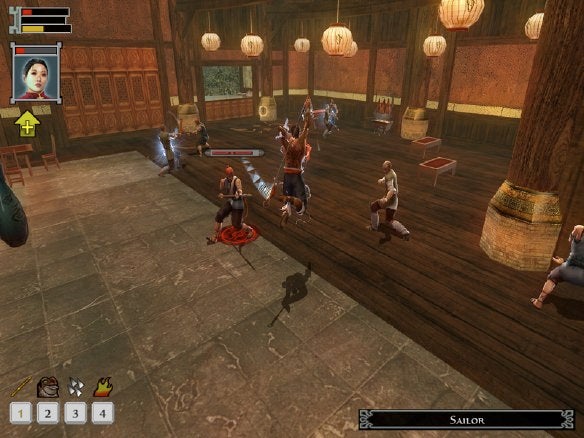 Somebody's about to get their pansy butt beat into the next dynasty.
​
You also bring one of your many companions with you into combat. The way it works is simple: you can switch them at will between attacking or supporting. While they are attacking, they can take damage, but will draw some of the heat off of you; if they're supporting, they give you various boosts and stay safely out of harm's way. I used the second option for most of the game (I wanted to fight my own battles), but it's a useful mechanic for when you can't take all the enemies on yourself. You need to be careful though: if your allies are in attack mode and are KO'd, you won't be able to use them for the remainder of the fight.
Jade Empire has some other flaws as well, the karmic system being a prime example. In Bioware's previous outing, the first KOTOR game, your good/evil status had an effect on the game by making certain powers harder to use, and giving you certain special dialogue options. If you were good, you couldn't use the evil powers that well, and vice versa. Well, in Jade Empire that (halfway decent) system was thrown out the window in favor of another one. Here, the only thing karma really affects is what styles you can learn from various trainers. It's an annoying feature, and since you can't just switch karmic states quickly, you're basically forced down one path or another if you want to get your hands on particular fighting styles. Another quirk about the karma system is how it is described. At the start of the game, a monk tells you that the two paths you can follow (Open Palm and Closed Fist) aren't just supposed to be a good/evil thing. Rather, it's about your fighting philosophies. To quote Wikipedia:
According to the "Way of the Open Palm," the key to maintaining the universe is by being in harmony with nature, one's surroundings, and one's station in life. As an effect of being in nature with one's surroundings, one is expected to actively assist in lessening the chaos in the area, through the assistance of lessening burdens. While this seems "Peaceful", the Way of the Open Palm is strict in another form: one should not act outside their station and purpose in life.


Yup, that's an Open Palm user alright.
​
According to the "Way of the Closed Fist," on the other hand, the purpose of life is to follow the ways of serving oneself - to face one's challenges head on, challenge one's station in life, and work to become self-reliant. The emphasis of the Way of the Closed Fist is combat, turmoil, and constantly challenging oneself, which is why many of those who are evil tend to be considered to follow the Way of the Closed Fist, in that they bring about chaos in the universe.
Context plays a large part in the interpretation of these philosophies. For example, an evil follower of the Open Palm path could enable the suffering of others in order to achieve greater order, and a good follower of the Closed Fist path could encourage self-reliance in others, thus making them happier. For instance, if a follower of the Open Palm came upon a peasant being attacked by a gang of bandits, he would help because it is the right thing to do. Conversely, if a follower of the Closed Fist encountered this situation, he would reason that the peasant must survive on their own merit, or die. However, the Closed Fist student might also help the peasant if he felt that the peasant was too far out of his league for such a battle to be a valid test of his strength. For example, if a common thug came upon this situation he may not help the peasant due to concern for his own safety, but then later claim he was merely following the way of the Closed Fist. In this way, the Closed Fist tends to be misconstrued as evil.
Alas, this interesting idea is dropped almost immediately. The two philosophies quickly reveal themselves to just be the old good/evil choice all over again: the Open Palm decisions have you be kind and heroic, and the Closed Fist ones have you punching babies and taking their candy. It's a real pity too: at the start of the game I was really into the idea of being a Closed Fist, but when that was shown to just be an exercise in being a total douchebag, I quickly lost interest and starting following the Open Palm instead, as I can't stand being evil for evil's sake.
There was apparently a rumor of a sequel at some point. I hope it turns out to be true.
​
The inventory system is also a bit meh. It has the virtue of being incredibly simple: you have a amulet that lets you channel your spiritual powers, and sticking stones in the slots on the amulet will give you various stat boosts. Alas, this brings up a rather weird problem: it's never a tough choice to pick which stones you want (sell the personality boosters, keep the health/magic ones), and they don't seem to have a significant impact till very late in the game. Maybe it was just me, but I could easily take on a whole horde of enemies without any gems at all. Money also feels rather contrived: all you'll ever do with it (if you're smart) is save up to buy the various permanent stat boosters, and other fighting styles. I never felt like saving up my cash was much of a benefit, and that's just
wrong
in a RPG.
I like Bioware games, a lot. However, they have a tendency to be just short of perfection, falling flat on one front or another: and Jade Empire is no exception. It's a truly wonderful game, but the balancing faults, flawed inventory system, and irksome karma meter drive it down. It may seem as if the majority of this review is negative: but I still would recommend it highly. The game is a good time, and well worth the current price it goes for. My verdict is that you should pick this one up if you like the Western style of RPG, or happen to be a Bioware fan. It is fun, creative, and unique: just be prepared to deal with some of the niggling flaws that keep it from achieving true excellence.
[HEADING=3]Editor's Notes:[/HEADING]
Yeah, take that olivera. I actually wrote it. For realz.
...BOOYAH ************!
I wanted to mention how this game was the first of Bioware's titles to feature the same-sex romance option, but it felt sandwiched whenever I tried to stick it in. Also, the (very few) puzzles you'll find are sort of lame sauce... but whatever. There were several things that I just couldn't stick in, and for the sake of following KISS I omitted them.
I'm finally done with this, thank goodness: and now I can focus on the next set of reviews without feeling guilty. inFamous and L4D, here I come...
Once again, please leave something behind after you've read this review: a "nice job" or some constructive criticism really brightens up my day, and makes me feel like people actually read this as opposed to just stumbling in here by accident.
Mega Man 9 [http://www.escapistmagazine.com/forums/read/326.119167]
Deja Vu [http://www.escapistmagazine.com/forums/read/326.117801]
Hooray For the New Blood: An Unofficial Article. [http://www.escapistmagazine.com/forums/read/326.117338]
Manga Mashup #2: Prepared to be Schooled. [http://www.escapistmagazine.com/forums/read/326.115803]
Manga Mashup #1: Attack of the A's [http://www.escapistmagazine.com/forums/read/326.111313]
Braid [http://www.escapistmagazine.com/forums/read/326.110777]
Max Payne [http://www.escapistmagazine.com/forums/read/326.110027#1897580]
Indigo Prophecy [http://www.escapistmagazine.com/forums/read/326.108202#1817369]
WarCraft 3 [http://www.escapistmagazine.com/forums/read/326.107685]
Fallout 3 [http://www.escapistmagazine.com/forums/read/326.105151#1683250]
Mirror's Edge [http://www.escapistmagazine.com/forums/read/326.102291#1586312]