Before I begin, I'd like to apologize for making another game request thread so close apart from the previous one. It's just that I can't find this type of game by myself and people on other sites don't seem to understand what I want. So I thought that since you're the most intelligent community I've ever stumbled across, I might have a bigger chance of finding something here. I hope you'll still take me seriously and help me out on this one.
---------------------------------------------------------
As cryptic and weird as the title may sound, the request is actually pretty simple (or at least I think it is) despite being a tad bit unusual. I want a PC action game with dark atmosphere and level design similar to ones present in Devil May Cry series (especially the first two games) - complex, gothic-stylized castles, cathedrals, and streets of monumental cities like Fortuna from DMC 4 [http://img1.wikia.nocookie.net/__cb20071024001613/devilmaycry/images/0/06/Fortuna_04.jpg] for levels, twisted, demonic creatures and even more twisted and demonic bosses for enemies, and a sword (or any other melee weapon, as long as you can effectively kill your enemies with it) for your weapon. What I don't want, though is over-the-top stuff like this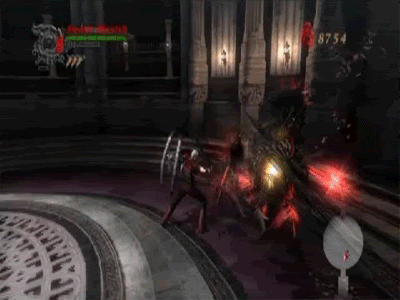 or this
Basically, the slower, "heavier", and unexaggerated the combat is, the better. A great example of what I mean by that is Berserk on the PS2 (gameplay [https://www.youtube.com/watch?feature=player_detailpage&v=AZO89Zo0DW4#t=62]) - it's slow , but the fights still manage to be pretty intense.
Any idea if a game like this exists at all? I'd be happy if it does.
Oh, and please don't say Dark Souls or Legacy of Kain - I probably know these games by heart by now, and would like to try something other than that.