1 - The Mysterious Geographic Explorations of Jasper Morello [http://www.escapistmagazine.com/forums/read/326.69960#676220]
2 - Harvie Krumpet [http://www.escapistmagazine.com/forums/read/326.70751#701645]
3 - The White Chamber [http://www.escapistmagazine.com/forums/read/326.71432#723554]
4 - WALL-E [http://www.escapistmagazine.com/forums/read/326.71895]
5 ? The Life of D. Duck [http://www.escapistmagazine.com/forums/read/326.72595]
6 ? JetSet Radio Future [http://www.escapistmagazine.com/forums/read/326.73006]
7 - Star Wars: Battlefront (1 and 2) [http://www.escapistmagazine.com/forums/jump/326.73287.790938]
8 - Bioshock [http://www.escapistmagazine.com/forums/read/326.80646]
9 ? Halo: Combat Evolved [http://www.escapistmagazine.com/forums/read/326.81344]
This review is more or less a continuation of my previous review [http://www.escapistmagazine.com/forums/read/326.81344], so you might want to consider reading it first. Mind you, that?s just an excuse to get you to read it.
Oh, and please, keep the criticism coming. It?s much appreciated.
[HEADING=1]Lord Krunk?s 10[sup]th[/sup] Review: Halo 2[/HEADING]
Some time after the events of
Halo: Combat Evolved
, SPARTAN-117 (better known as the Master Chief) arrives back on Earth for a much deserved rest. However, the world is still at war with the alien Covenant (a religious army of intergalactic conquerors) and the Chief finds himself thrust once more into battle alongside new and familiar allies. However, saving the world changes once more into saving the universe as he makes a shocking discovery, one that will change everything as it did before.
Meanwhile, the Covenant assigns a disgraced admiral with the task of being the Arbiter; a holy warrior assigned to perform deeds of great importance and difficulty. However, when the Master Chief (the man responsible for his disgrace) comes into the equation, can he complete his tasks without getting his hands dirty once more?
Halo 2
is spawn of the popularity of
Halo: Combat Evolved
, and as a result has received a far larger budget than its predecessor, which shows. The graphics have been toned up severely; the terrible lip-synching of the original is no longer an issue, everything is a lot less blocky and enemies look a lot more awesome, thanks to improved detail. New weapons/vehicles are welcome, along with the usability of previously unusable weapons/vehicles in the original; the Energy Sword (The FPS Lightsaber) and Fuel Rod Cannon are real joys to use, and I?m sure that I?m not the only one that?s had fun dropping blue orbs of destruction upon bystanders in a Wraith. Combat has been improved by replacing the rather annoying health bar in the original with a faster-recharging shield, and the new ?Dual Wielding? mechanism for small arms is not unwelcome either; especially in tough and tricky firefights. Showing the events of the game through the eyes of the Covenant was an excellent idea on the part of Bungie; the concept fleshes out the villains quite extensively and shows that they are not so much ?Bad Guys? as they are misinformed Knights Templar; this is mostly evident in the actions and mannerisms of the ape-like Brutes and the ?Prophets?. Alongside this; showing the state of Earth at war was a nice touch, regretfully missing in the original.
Even with all of these major changes to how the game looks and feels; it is also great to know that they have not changed some things, such as the controls. The artistic design of the buildings, vehicles and weaponry continue to impress and strike me with awe at their creativity, especially with regards to future human architecture and the Covenant?s spacefaring mushroom cloud of a home.
Halo 2
?s multiplayer component, however, retains my greatest praise of all for the game. While I have never played the game over Xbox Live, I do know for a fact the fast-paced action and tension of the campaign is abundant; I have spent many an afternoon holding deathmatches with my friends, and
Halo 2
has been our ?multiplayer game of choice? for the past 4 years. Of course playing the same damn game for 4 years makes it rather tiresome from time to time, but customizing tools and ?create a game? mechanics allow you to build your own level of fast-paced awesome (my personal favourite is a ?hardcore? mode my friend invented where shields are switched off, making almost everything a ?one hit kill? weapon. This gets the blood boiling furiously, because one false move and you?re doomed).
Bungie will have to resurrect Dr. Roget if they are ever going to invent a new Covenant vehicle though.
While I retain my praise for the game and its significant improvements, there are still a plenty of disappointments that leave much to be desired. The plot sticks to the same one that the original had, with a few twists and turns. While not so bad in itself, it also disappoints series veterans who had already encountered the twists of the first by not actually giving an air of mystery to Halo any more. Continuity flaws are rife, not only with the sudden, ignored and unexplained change in the Covenant ?Phantom? Dropships (while they look a lot more awesome and are far more more useful on the part of your enemies, they really shouldn?t change things so dramatically) but even with the unexplained return of Sergeant Johnson (who got blown up in a hidden cutscene in the original). Vehicles have now lost their health bars, which make for unrealistic gameplay (ignoring the lack of gravity in this game) and the Assault Rifle (probably the trademark weapon of the original) is sadly absent. While the graphics have been significantly upgraded, the only real noticeable differences in your enemies are that they are a lot brighter, The Flood are still just brown blobs, and even Cortana has shed her vibrant multicolours for a dull purple. The music, while at times is still as good as the first in adding atmosphere to the game, has been ruined in several parts; no doubt caused by the inclusion of guitars to a purely orchestral soundtrack (Anyone else remembers the epic battle in the Mausoleum with guitars screeching in the background? Ugh). The voice acting, while improved, still had some strange and unfunny dialogue if you listen carefully; ?Are you made of Leprechauns, because that was awesome? and ?You?re a few sandwiches short of a picnic? are both quotes that confused me severely, and The Master Chief?s character has changed from a calm badass mediator into a one-liner factory. Finally, the finale was a lot less exciting than the first; while the final battle was epic, the blood-pumping ?Race Against Time? aspect was sadly missing (and would have worked).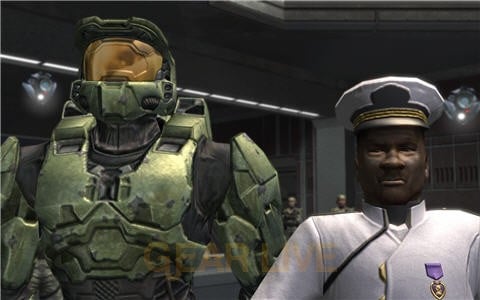 I don?t know how Johnson survived me exploding him colossally, but I?m sure he deserves that medal for it.
Despite all its flaws, Halo 2 is mainly a better-than-decent game, and an even better stand-alone game for people not familiar with the original. Considering that it too is now a bargain bin special at your local shopping centre, I would have to say that you should
buy it, especially if you have more than one controller and some willing friends
. It?s nowhere near the best game in the world, but is still an entertaining and fun game that?s well worth the less than $15 you?re paying for it.
This may be the first Halo 2 Review on The Escapist, surprisingly. History has been made on more accounts than one.