I made another thread about this, but it was an awful jumbled mess that made me want to puke. Here is a nice neat version of what could very well be one of the greatest stunts ever pulled in video game history.
I started a reddit thread where I browsed a forum on the bioware fan site discussing the possibility that MAYBE... the endings were all a very intricate and insidious way for Mass Effect to go down in video gaming history as one of the greatest games ever made. If you are like me, depressed and disappointed at the ending we were provided, but KNOW in your hearts that Bioware is better than this, you may gain... HOPE. TO FIGHT ANOTHER DAY. Or something. I don't know.
1. Assuming this is a hallucination, and this is Shepard's final test to see if he's indoctrinated or not, the Reapers would need 3 choices that looked like he won, but only 1 in which his resolve stayed true and he blew the **** out of the reapers. If he takes that 1 choice, it proves they have failed in their attempt. If he takes the other two, they've learned how to twist his mind into thinking he's doing the right thing when he isn't.
A few more obvious points from that last bit
2. Unlimited ammo pistol
Armor is... burned off?
Squad mates just kind of ditch you
Strange, dreamlike sequence. Not exactly unheard of, but the fashion in which they did it
was something I haven't seen before.
3.If you notice while walking up the ramp to get to the control panel on the left side it says 1M1..on the right it says 1M1 but its backwards- the 1's are completely mirrored and backwards. Logic: in this dream: whats RIGHT is skewed, its wrong, its not REAL. I.e. The right thing in your mind to do is represented as "WRONG" in this ending (dream) --- You get a renegade option (RED) to shoot TIM to save anderson?? really? im sorry thats paragon.. but see.. its indoctrination-- its making you think its WRONG to shoot TIM to save anderson.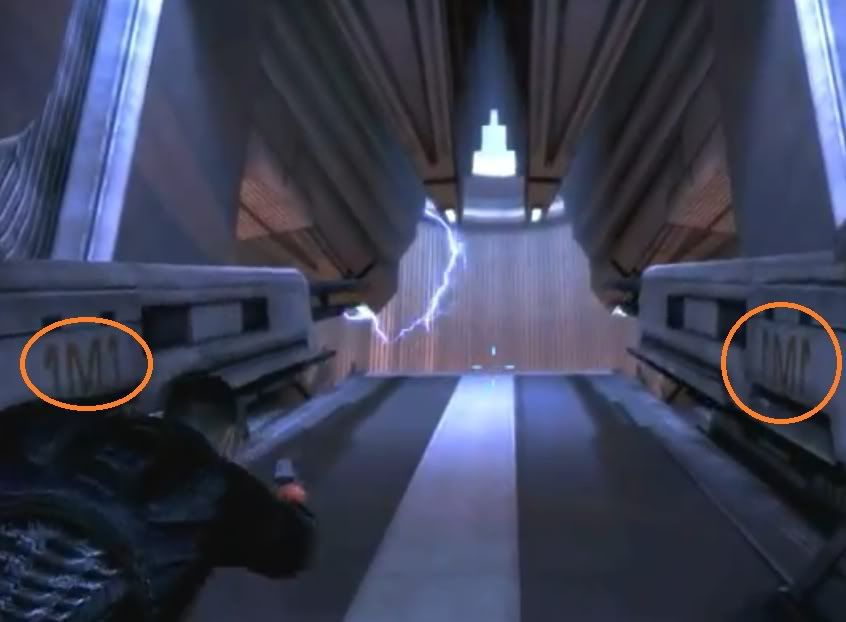 4.Also some twitter stuff...
@jessicamerizan Really, a hallucination/dream? Cause that was trite when Dallas did it, what 30 yrs ago now? #lamelameamelamelamelamelame Jessica Merizan ‏ @JTFehrenbacher you are free to have your opinion and I'm free to have mine ">JessicaMerizan Close @JTFehrenbacher you are free to have your opinion and I'm free to have mine
Jessica Merizan, PR for Bioware, explaining how she believes hallucination/dream is NOT triet. Unrelated? Maybe. BUT MAYBE NOT.
5.There's one thing here I haven't seen mentioned, and maybe I'm just reading too much into things, but think about the definition of the word "crucible." Other than something to melt metal in, a crucible is also a test or trial that is usually incredibly difficult.
Does anyone see where I'm going with this?
6. http://en.wikipedia.org/wiki/United_States_Marine_Corps_Recruit_Training#The_Crucible
This is an exercise done by the marine corp IRL.
"On the final day of the Crucible, recruits are awoken and begin their final march (including "The Reaper" a forced march up a steeply inclined hill to the top of Edson's Ridge on the west coast)."
7. I just listened to Saren's speech on Virmire again and i'm seeing many similarities to what Saren says in comparison nto the theories behind the three choices. He was convinced they could co-exist, albiet as slaves, and as an end result, Sovereign gain a powerful avatar to carry out the Reapers will, only to be thwarted and destroyed by Shepard in the end.
Perhaps the same is happening to Shepard, but with Harbinger instead, since it is the only Reaper that's had several conversations with Shepard and has shown an unusual amount of hatred for one human. Maybe Harbinger believes that by absorbing what makes Shepard who he/she is, it will increase its own power to the point where nothing could defy it or the Reapers. The Reapers are being faced with their own extinction because a united galaxy is fighting them and has proven it can destroy Reapers with their combined forces. Take Shepard out of the picture or indoctrinate Shepard to dissolve the alliances and the Reapers would win quite easily.
8. You mean when the old man and his presumably grandson are talking at the end?
From what I understand, theory says that that still happens, and when the grandfather says 'one more story of Shep', that 'one more story' is what happens to Shepard after waking up from the hallucination/getting hit with the Reaper beam.
9.There's one thing I'm hinging all my hopes on in regards to this:
Throughout the entire series, it has been repeatedly made clear that the Reapers are a sentient species of machines out to achieve their own agenda, that being to harvest other species to bolster their own numbers In other words, survival. It has never been hinted at that they were pawns for some space god.
It is logical to suggest Harbinger would try and achieve that goal, survival, by indoctrinating Shephard and misleading him, just like TIM.
10. 1) As soon as Shepherd "wakes up" after being blasted by the Reaper laser, he's limping. If, as you're playing, you try to look/aim down at Shep's feet, you can't. The view angle get's blocked so that you can't see below his/her knees. If you watch the pace of the legs moving, though, it becomes really obvious that Shepherd is moving considerably faster than he is actually walking, almost floating as it were. At first when I noticed this in the my second play-though I just figured it was designed that way because making Shepherds speed the same as his walk would make the last moments in the game take 3 times longer (and it already seemed to take forever). But if we're rolling with the hallucination/indoctrination theory, then the fact that he's practically floating on his feet just adds more fuel to the fire...
2) When the "Catalyst" child starts listing the three options, he goes out of his way to make destruction sound like a terrible idea. "If you do this you'll kill all the Geth you've helped, not to mention that your kids will just make more robots farther down the road and nothing will really be solved." The kid also very pointedly avoids claiming that Shepard will die outright if he chooses that option, merely dropping a hint that Shep "might" die. Shepard also expresses doubts in the child's judgment by saying "Maybe." This is in direct contrast with the other two options (control and synthesis), where the kid goes out of his way to make them sound much more appealing, says clearly that either option will kill Shepard, and Shepard expresses zero doubts about either of the propositions. Then there's the fact that, all of the sudden, a character (Anderson) that would typically be associated with the paragon color (blue) is represented by the renegade color (red/orange), and the Illusive Man, the embodiment of pure renegade, is given the paragon color. Everything about the scene is slanted to make the most obvious choice (destroy the Reapers) the least appealing, and turns the rest of the game (and the previous 2 games) on it's head. Not 30 seconds ago back by the console TIM was obviously the clear-cut indoctrinated villain (shooting Anderson) , but now the god-kid tries to snooker Shep into believing TIM was a tragic hero who would do the right thing. On the other hand, Anderson, who was making a heroic stand with Shep against the villainous Illusive Man, gets relegated to the role of murdering maniac who would choose the "bad" option and blow the Reapers to kingdom come. If that's not a clear attempt to indoctrinate Shepard, what is?
The line Harbinger repeated over and over in ME2 was that the Reapers would be "your salvation through destruction." Well, the synthesis and control options are literally salvation for the galaxy through Shep's destruction, buying into a compliance mindset. The only option that leaves Shep breathing is to destroy the Reapers, which has been the point since ME1. All the evidence points to the last sequence being a battle for Shepards mind that is only won when Shep chooses the path that the god-kid tries to convince him not to take.
What we then see (when we choose the RIGHT option) is Shepard waking up from the nightmare after having beaten the Reapers' last ditch attempt to stop him within his own mind. The fact that the god-kid just looks like a ghost version of the exact kid that has been haunting Shep's dreams since the beginning of the game makes it seem all the more plausible. I, for one, will assume that since Shep wakes up, victory is assured: he beams to the Citadel, blows away TIM with a REAL gun, punches the button on the console, and watches the Crucible-powered Citadel wipe the Reapers off the galactic map just like it was supposed to do.
I got the warning mods, I apologize for that horribad thread I created yesterday. I was REALLY REALLY tired.