Miracle's Whip: Bioshock 2
Welcome to my very first 'Miracle's Whip'.
Feel free to leave constructive criticism.
[img height= 200]http://thexboxdomain.com/wp-content/uploads/2009/04/bioshock_2.jpg[/img]​
When Bioshock arrived in 2008, it pleased many a gamer with its fourth-wall breaking twists, philosophical musings and its sub-aquatic art-deco dystopia.
It was not without its flaws, however, many complaining of the overly long fetch quests, enemy difficulty scaling and its final confrontation, which was about as much fun as a slap in the face with a dead kipper.
Have a new developer and a new protagonist done the wondrous city of Rapture justice? Well, yes, for the most part.
Story
The city is now in an even worse state of disrepair than it was back when Jack came to visit, and the drug addled human waste (or Splicers) have become even more jacked up on Adam, making them a far more formidable foe this time around.
[img height= 300]http://xbox360media.gamespy.com/xbox360/image/article/986/986695/bioshock-2-20090526054225702.jpg[/img]​
Big Daddy's suit allows him to channel his farts into his hands and light them in your face... ouch​
There are new leaders rising to power in Rapture, and an elusive but always ominous character named Sophia Lamb takes over from Andrew Ryan as your unseen antagonist. There are also the Big Sisters, female versions of Big Daddy, but their origin and purpose is a mystery. You play a prototype Big Daddy who has awoken from a long, shall we say... absence and your goal is to re-unite with Eleanor, the little sister you are scientifically and emotionally bonded to.
To say any more about the story would be ruining it for you, suffice to say that it is very well told and has some intensely emotional moments.
Visual Presentation
It should come as no surprise that Rapture looks fantastic again. It's like the entire game was designed by a 1950s Caravaggio. The developers use dynamic lighting and tenebrism to make every corner feel like a threat, every ruined monument a gorgeous, eye catching focal point. The visual style oozes class, with Neon signs flickering on and off, eerie blue shrines reminding you that Lamb is watching, and the beautiful art deco theatres, restaurants and train stations crumbling into ruined, violent hellscapes.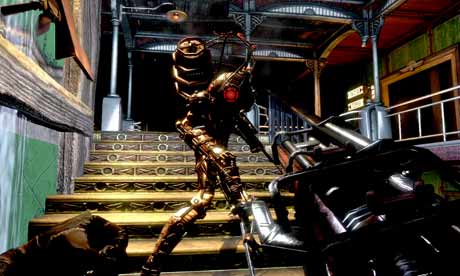 So, eh, your ominous glowing uni-eye is nice, wanna go grab a coffee? No? You'd prefer to set me on fire and rip my face off? Damn... shot down again.​
There are some underwater sections which look impressive too, with strange plants glowing in fantastic colours and various fishies popping along to have a look at you.
It's not perfect, however. There are some very low-res textures here and there, and some clunky looking items and furniture with, I hate to say it... big old jaggies. It wouldn't be so bad if the rest of the game didn't look fantastic, just be prepared now and again to be knocked out the immersion by some last-gen graphics.
Character models are a lot better than the awful, hideous monstrosities in the first game, but can still look a little unfinished and clumsy in parts.
Sound
The sound design is excellent for the most part. Voice acting is of a high standard throughout and really draws you into the stories of the crazy, tragic characters of Rapture. Lamb and Eleanor in particular have some excellent voice-work, and the little sisters will break your heart with their sad little voices.
There are some sound balance issues, however. Each gun has a very different volume level. The machine gun is barely audible and feels a tad unsatisfying because of it, while the shotgun just blows your damn ears off. There was also a truly horrible music bug, which I will discuss in a bit...
Gameplay
Gameplay is certainly a step up from the first game. Guns feel meatier, you can now use your plasmids and weapons simultaneously and the aiming mechanic feels more precise.
The focus is more on defensive gameplay this time, showcased by a new mechanic in which you defend a little sister from hordes of incoming crazies as she gathers you some ADAM.
You can harvest or save her as expected, with the rewards for each varying. You eventually get gifts from saving them so I honestly feel the good road is, in the long run, the better bet. Plus, how the hell could anyone kill them, I mean look at their little faces...
If you pressed 'X' here, I hate you. ​
There are a great variety of combat styles to pick from. Want to freeze your foe and shatter him with your electrocuting shotgun? You got it. Prefer to set a swarm of bees in his face, stand back and laugh at his misfortune before setting a whirlwind under him and throwing into the ceiling? No problem. Want to lay traps everywhere and fall off your chair with delight as they get mangled by trap rivets, mini turrets and hypnotised Big Daddies? Off you go.
And then there's the drill... my god is this weapon satisfying to use. Its charge attack works in a similar way to the biotic charge in Mass Effect 2 and it is just wonderfully violent and satisfying. You can choose to focus on the drill too, and this play style is very rewarding. Drill plus plasmids = spellsword build.
Tonics upgrade your abilities again, and can be used to make the (quite irritating) hacking minigame easier. Hacking gives you access to cheaper items and mechanical allies, as before.
Combat can become a mess sometimes though, most noticeably in large battles with a few enemies at once. The blur effect when you get shot is very annoying and causes confusion, and elemental effects can cause the frame rate to drop quite badly, which is pretty much unacceptable in a 2010 mainstream release.
Also, when a Big Daddy gets involved in a ruckus between you and splicers, it becomes utter chaos. Which can be fun, but is mostly just frustrating.
Big Sister battles are strategic and fun, but nothing to get too excited over.
Rapture's residents don't really do subtle, it's all about the hyperbole ​
I encountered no less than three game breaking bugs in my first playthrough. My left trigger and right stick both stopped working, forcing reloads, and on one level the screeching string crescendo music for a Big Sister's entrance got stuck on a loop all the way to the end of the level, which was utterly maddening and forced me to start the whole level again in order to experience it properly.
Multiplayer:
Competitive gaming gives me anal herpes. My Gold Account is happily inactive right now, and I don't plan on returning to the rage-inducing world of online anytime soon, so this review is focusing on the campaign.
Overall Opinion
I really enjoyed Bioshock 2. It was a little on the short side, but the ending I got was so moving and beautiful I didn't mind. Seriously... if you are a bit of a sap like me the 'good' ending of this game will make you cry like a baby, it's that stunning. I youtubed the bad ending, it's also pretty emotional.
Rapture isn't quite as mesmerising this time around, but that's only because nothing can compare to the first time you discover a new universe. This applies to every sequel ever made.
It's fun, it's pretty and it feels good. All in all, it has bettered the original in almost every way and whether or not you plan to get into the multiplayer, it's well worth getting for the campaign.
Take another trip along the great chain and lose yourself in Rapture.
Verdict:
Buy
.
A side note- I have to thank my awesome girlfriend for buying me the game as a surprise, as I was broke and couldn't afford it. respect!