Hey guys, my review came joint first place in Review Wars alongside Heart of Darkness's one, which is here [http://www.escapistmagazine.com/forums/read/326.193886-Heart-of-Darkness-Presents-Rhythm-Heaven-Review-Wars-III-Joint-Winning-Review#comment_form].

Here's mine in full, hope ye enjoy it


You may notice the format is different to my usual reviews, this is because I was trying not to make my identity obvious.

Thanks to PimpPeter and Review Wars, because this review wouldn't exist were it not for them!
Ico - Review
A horned boy and a shimmering, ethereal sylph of a girl emerge from a dark, dingy corridor and out into a crumbling clearing. As their eyes adjust to the light, an immense, ominous windmill fades into view, its blades spinning over a yawning chasm. On the other side of the deep pit is their only escape route: a steep set of stone stairs. The boy could probably just about jump it, but he's not about to leave his only friend in the world behind. He needs her, and she needs him. He lets go of her hand, and begins to climb towards the windmill's dangerous blades...
Ico is a story of love and co-dependence, told through a sublime platforming puzzle game. When it first came out in 2001 it was criminally under-rated and ignored by the gaming public. When its prequel, Shadow of the Colossus, arrived a few years later, it was re-released and finally got some of the credit it deserved. It is a unique experience and one of the most beautiful, emotionally affecting games you will ever play.
Ico is a young lad who was born with horns, which means it sucks to be him. Shunned by his community and sent to a gargantuan prison-castle, his fate seems grim during the game's opening. Quiet and understated, a cut-scene shows faceless riders escorting him slowly and morosely through beautifully rendered forests, the intense silence expressing more than the most raucous and vocal Rockstar or Squeenix sequences.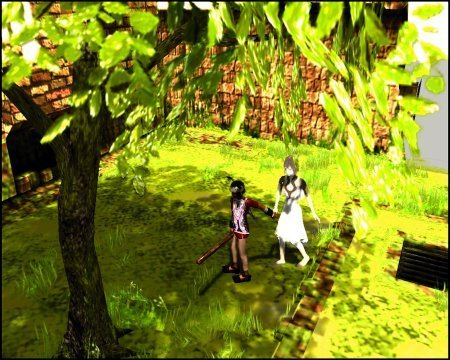 'You know, if it wasn't for the malevolent shadow demons trying to kill us, this would make a lovely spot for a picnic.'
​
Fortunately, he manages to escape his cell and soon meets Yorda, another prisoner. Together they must escape their colossal prison, fighting off shadowy demons that want to drag Yorda down into black inky holes. And that's the story. The reasons for their mistreatment are left unexplained, which works. Ico is not about complex story-lines and mechanics, simplicity is the key. As the game progresses, they will become close and develop a great need and love for each-other, which I will say no more about for fear of spoiling it.
When Ico was released, it was probably the most visually advanced game to date. The camera swoops over epic, haunting vistas both in cut-scenes and during game-play. Rays of light shine through windows, little particles of dust and dynamic shadows give dimensions to the world. Every single moment of this game a joy to look at, every area beautifully crafted and designed. The castle is the game's other big character. The foreboding architecture is ancient and regal, creating a lonely, oppressive atmosphere dripping with dark beauty.
Characters are lovingly created, and the animations are both realistic and fluid. Ico runs and jumps around clumsily like an excited youth (particularly in combat, more about that later), while Yorda's movements are delicate, graceful and vulnerable. Watching her suddenly stumble along inelegantly whenever Ico drags her around by the hand gives her a sense of humanity and realness, which is just as well because you'll be holding her hand
a lot
.
'Man... she's so tall. I'm gonna have to buy a sports car.'
​
Later areas of the game contain shimmering waterfalls, giant trees swaying in the breeze and dark, dank caves. Everything is stunning to look at, even by today's standards.
When it comes to sound, less is more in Ico. The game is silent for the most part, permeated only by the odd elemental effect (running water or a light wind) and the sparse vocal communication between the two protagonists. They don't speak the same language (in fact, both speak in cryptic tongues that are neither English nor Japanese) so communicate only in monosyllabic yells and physical gestures.
This section requires expert timing and knowing exactly when to execute the 'yawn, stretch and throw arm around' move'
​
Music is used sparingly, only at emotionally intense moments or cut-scenes. When the aforementioned shadow demons appear eerie, subtle soundscapes kick in. It's an unnerving effect that is never needlessly over-dramatic or overbearing.
Ico is ingenious in its use of storytelling and character development through the game's mechanics. Yorda's spatial awareness is not the best and she must be led everywhere, which necessitates the player physically holding the R1 button to guide her around. It really makes you feel like she needs you there, helping her where she cannot help herself.
The pair have different abilities. Ico can climb chains, jump pits and fight off the baddies, while Yorda can open magic portals. Most of the puzzles are built around this inspired dynamic: Ico must navigate and manipulate the environment in order to find a safe path for her. It's standard platforming with a co-operative twist. You can never leave her behind for too long, however, as the demons will come to get her... which brings us to the combat.
This is the one area I felt the game was a little weak. Combat is simplistic: demons will try to abduct Yorda while you jump around and smack them with your stick/sword until they dissipate. This is good in theory, as Ico is no warrior. His fighting is clumsy and desperate, as a young boy's should be. He is not a badass superhero. However, the nature of the combat is very repetitive and ultimately boring. It also rears its ugly head at the most irritating times, when you're five rooms away from Yorda and often don't have time to get back to her and prevent her being dragged into black holes. In this context, the combat becomes an annoyance later in the adventure, serving only to distract from the core gameplay of platforming and puzzle solving.
Despite some minor flaws, Ico is a true classic. It is a perfect example of the medium reaching the level of art and is more an interactive storytelling experience than a 'game'. I will not spoil the ending, suffice to say that it is the most emotional, moving moment I have experienced in gaming to this day, in my opinion even more so than anything in the more celebrated Shadow of the Colossus. I'm not ashamed to admit that Ico brought tears to my eyes more than once.
Its lack of action and understated nature will not be to everyone's taste, but allow yourself to be drawn into its achingly gorgeous world and you will lose yourself completely in an experience like no other.
Verdict:
Buy and cherish.