Or Mother 2, if you prefer.
Earthbound, or Mother 2 for the purists, is a beautiful game that spares no expense in the name of style. The entire experience, "New Game" to "The End," is lined with constant enjoyment, off-beat humor, and colorful and creative characters. The humor is done in such a way that it comments on every walk of life, countless symptoms of the human condition, and the good, bad, and ugly of modern-day living. All of it wrapped in a simply, bright, stylish, and colorful RPG for the Super Nintendo, or Super Famicon, console.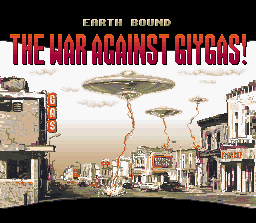 The plot in four words or less? 'Kay.
The game starts with a bang, literally, as you wake from your slumber by a loud crash. Trudging your feet down the stairs, PJs rustling with the motion, your mom's awake and downstairs, worried about the noise. She sees you coming, and is already sure you're up to no good. Like the smart woman your mother is, she sends you back to your room, to get changed before leaving the house in your pajamas.
You exit the house in Onett, Eagleland. (Could that mean England? Of course not!) A small town, some citizens abuzz with news of a Meteorite landing, and wanting to get a full view. As you embark up the mountain, you'll notice the police is on top of their game, and already have the meteorite cordoned off. Oh, and surprise, your neighbor is hustling the police for information. One of the policemen-officers even kindly asks you to remove your loud, boisterous neighbor, who is halfway to shooing you away before you finish "Hello." Ah well, back home with you.
More noise, less sleep. To your feet, you answer the door. Your neighbor, Pokey, is back, and it looks like his brother's gotten lost on the mountain. Well, up-and-at-'em, soldier, you need to get a move on. On the top of the hill, you find Picky and a meteorite. Suddenly, a buzzing...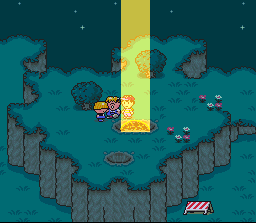 Well, on the bright side, it's not glowing red or ticking...
Ness, did you know that you're going to save the world from Giygas, an interstellar villain? Well, that's what Buzz-Buzz, the time-traveling not-Bee tells you. You'll even have friends! And this is less than ten minutes into the game.
Later on, the story will put you at odds with countless villains of every shape and flavor. Armed with a bat, or slingshot, or airsoft gun, frying pan, yo-yo, Sword of Kings, or even your bare hands, you have to contend with every type of villain in the whole of Eagleland.
The game ultimately pits you against a gang of local ruffians, the police, ants, mice, cultists, manifestations of evil, blobs of amorphous slime, and a tent [http://starmen.net/mother2/images/screenshots/threed12.png]. I kid you not, here, a freaking tent. Between fighting every conceivable type of enemy in the game, you're given options to invest money in inventors who will create items for you over the course of the game. You also have the option of breaking, and later fixing, items. You can also raise chickens from eggs.
This adds an interesting dynamic to the game experience, which can only really be delivered by a game that is this stylish. Items have various effects, both inside and outside of battle, items that maintain such a good use in some situations, and so little use in others. It really adds a sort of balance to the game, which is a very unique dynamic, especially for a game this old.
The biggest feature found in Earthbound, and the one that makes it shine so illustriously, is the attention to detail is so meticulous that it's worth twice the price of the game alone. For example, the game adds an "HP Slot" dynamic that raises and lowers as gain and lose HP. So, in application, should you take 220 damage as you're leaning forward to lay the finishing blow on an enemy, your HP loss will stop as soon as the battle is over. So, you reduce the amount of HP you've taken. Or, if you're dealt a crush-blow while on the verge of being healed, the item may come in time, and recover you from where the slot was at the time, not from absolute zero.
Also, the game supplies each character with different weapons. The Bat and Frying Pan are standard weapons, capable of hitting or SMASH!ing the enemy (which is the game's equivalent of a Critical hit, over doubling the attack's damage). Conversely, the Slingshot is a statistically stronger item, but is more likely to miss, and incapable of dealing a critical hit. This dynamic, while seemingly small, adds a lot of weight to the weapon choice for any character.
Unlike most games, your income is based off of an ATM system, which will store your money for you. Since you have an ATM card, you cannot purchase anything without the cash on hand, but money in the ATM will not be withdrawn if you come down with a terrible case of the dead. Also, instead of monsters carrying around currency, you'll find your father deposits a certain amount of cash for every enemy you kill. Not necessarily a very intense change, but one I think fits the atmosphere much more smoothly than any alternative I can think of.
Also, the throws you into a scary new world as a child, and will sometimes confront you with unusual status effects, such as catching a cold, being on mushrooms (or, more accurately, mushrooms on you), and becoming home sick. The interesting thing about this dynamic is the game's attention to the way you solve these statuses, from cold remedies, to simply calling your mother back home in Onett from any convenient pay-phone.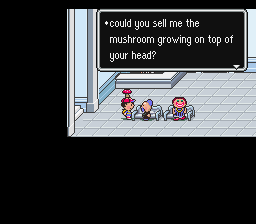 Hold it, buddy, that's second date stuff...
When you stray from the storyline and graphical style, though, the shining excellence that is Earthbound really loses some ground. The attention to detail, which is so fine it may as well be an art form in itself, really doesn't do a lot to break ground on a larger scale. Aside from the HP Slots and weapon variation, the gameplay is still dominated by wait-in-line, Dragon Warrior-esque 2D Battles [http://starmen.net/mother2/images/screenshots/onett19.png]. Although this doesn't indicate that anything is wrong, per say, when you really compare it to the attention that the detail received, you really feel like gameplay didn't quite jump on the "Stellar" bandwagon like the rest of the game did.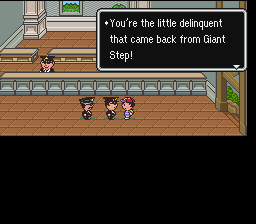 Nope, I'm the little deliquent that called your gameplay "Par, which is disappointing."
The game's progression, especially compared with modern games, almost felt sluggish after I realized that there wasn't a run button. The characters, clearly non-plussed, were content to walk from point A to point B, even when being chased by any number of enemies. It really left me feeling like there was something I should be doing to accelerate this whole travel process a bit. In answer to that, the game gave me a bike! Funny, though, two people can't ride bikes. So after I got my second party member, I lost my bike forever. Ah man...
But wait, the Skip Sandwich! An item designed to recover a criminally low amount of HP, and make me walk fast. Sweet, I'll just shove a bunch of these in my backpack and... Oh dear. My backpack's full. Which is my next complaint about the game. You have your inventory, which is already somewhat small, is rendered smaller by the fact that items do not stack, and anything equipped also takes up a slot in that character's inventory. Not a bad thing, but when I want a couple of skip sandwiches to speed up progression, I lose out on some critical healing items. Some may argue that this gives the game a bit of difficulty and decision making, so it's not really a flaw. Just, makes life a little more difficult for pack rats like me.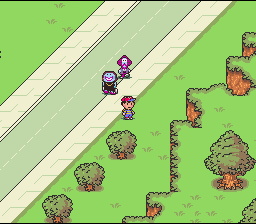 Now, where was I going with this? Oh yeah, side qu- Oh my God, hippies!
And the last only measurable flaw with the game comes to fruition if you look around long enough. What you find when you look around is not a whole lot.
Of side-quests, that is. There aren't any, really. Three or four, total, but that's not a whole lot to really get your hundred-hour-run-through adrenaline up. I tried to think about why this could possibly be, when I realized that the game's main storyline already sent me on countless creative and entertaining sub-plots and side adventures that fit just as at home in the storyline as they would as a side-quest. Come to think of it, when I look back on the whole experience, I don't feel cheated out of anything at all. So, maybe not the best for some folks, but it honestly doesn't bother me at all.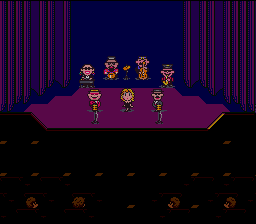 Last call, finish your drinks, and let's wrap this review up!
Despite it's intermittent flaws, Earthbound is a beautiful game that goes the distance, laughing and joking the whole way. Stylish at every turn, funny to the very end, there's not a lot to dislike while playing Earthbound. Somewhat slow to start, and an absolute gem the rest of the way through, Earthbound is one of the few games that reminds me that life is good.
It's fun, it's stylish, and it's fantastic. I don't think I can stress this enough, if you haven't played this game yet, you need to.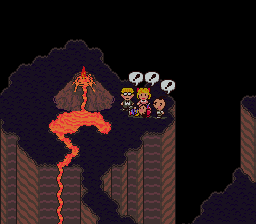 What do you mean he's coming to? Oh God, grab the wallet and run!
Verdict:
Rob a bank if you must, buy it however you can. You cannot afford to miss this game.