Anyone who has played Warhammer Fantasy Battle or Warhammer: 40,000 knows about the 4 gods of chaos. Now suppose you were swayed into joining up with the legions of chaos, which god would you choose and in what setting, WHFB or 40K? Most importantly why. Also don't be an indecisive prick and worship chaos undivided. Also, just for the hell of it, your a space marine, so your not completely fucked when you join up with Chaos.
For those of you not in the know, the Chaos gods are 4 evil entities that inhabit the Warhammer universe. They feed off of negative or powerful emotions and are always attempting to cause strife that would bring out such emotions. They also accept followers and may bestow their "blessings" upon those who serve them well. I would suggest doing a Google search on the gods, but if you just want the abridged version I will happily oblige.
Khorne
BLOOD FOR THE BLOOD GOD, SKULLS FOR THE SKULL THRONE!!!
is the battle-cry of Khorne Berzerker's everywhere. Khrone is the Chaos god of rage and slaughter. His followers value martial strength, fighting prowess, and brutality. He is the most powerful god in the setting due to the amount of bloodshed in the universe. He will allow you to become powerful, but will not tolerate weakness.
His followers look as such...
Tzeentch
The god of plots and change. He is constantly manipulating events in the Warhammer universe and is the second most powerful god because of the events he sets in motion. His gifts are mutations and the ability to glimpse into the future. But be warned, the second his plans no longer include you he takes away your gift of foresight and you are assassinated by a more ambitious and favoured follower.
His follows tend to appear as...
Nurgle
Nurgle, or Papa Nurgle to his followers, is the Chaos god of death, decay, and disease. His blessings are all of the horrid plagues he cooks up and not being effected by them, this also makes them extremely hard to kill. He wishes to spread his gifts to the rest of the universe, he also cares more about his followers than the other Chaos gods. He is the third most powerful Chaos god.
His followers tend to look like this...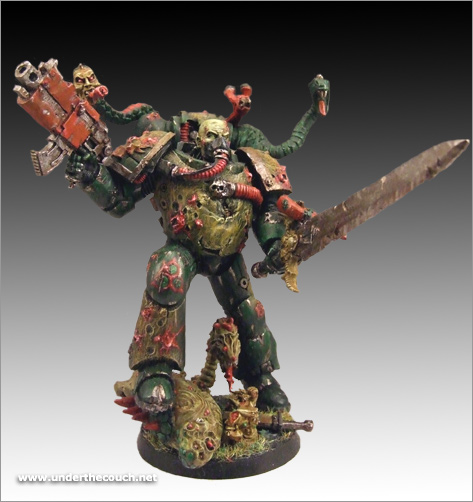 Slaanesh
The Chaos god of excess. While excess means too much of anything, Slaanesh is associated with more carnal and base variants of excess. His/her followers strive to obtain more sex, drugs, music, and other sensations incite a reaction from their dulled senses. They also happen to keep lots of slaves, know how to distil people into potent drugs, and have weaponized sound. Slaanesh is also the youngest and weakest of the gods.
Slaanesh Worshipers look somewhat like this, since I couldn't get a good picture I decided to use Doom Rider, who as far as Slaanesh followers go is in a league of his own...
This is also not a contest between which god is better, just which one appeals to you the most.
I would personally worship Nurgle. Sure I'll look worse than a pile of shit left out in the son too long, but at least Papa Nurgle loves me. I also am not fond of having my senses dulled to the point where burning myself alive to experience a new sensation seems like a good idea, nor do I like knowing I will be betrayed at some point, and I don't think I'm blood thirsty enough to serve Khorne. Besides, being durable enough to take a clip of bolter rounds is pretty sweet.
How about you fellow heretics?
EDIT: If I got a description wrong please notify me and I'll change it.