[HEADING=2]Summary[/HEADING]
In case you don't know Robocop is the story of an average police officer named Alex Murphy (played by Peter Weller) with a wife and child in a dystopian Detroit where the city was in such desperate straights that it could no longer sustain its own police force. The massive company O.C.P steps in and takes control. They have a plan to manufacture a robot police force. The man is mortally wounded by a group of criminals and becomes the guinea pig for O.C.P's Robocop project.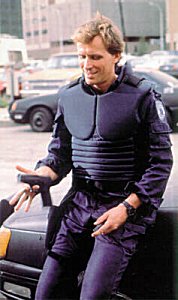 Murphy plays with his pistol
​
[HEADING=2]Action[/HEADING]
The action of this movie is deliberately paced and beyond brutal. The scene where Murphy is mortally wounded is one of the most disturbing things I have ever seen and the perverse joy the criminals have while doing it makes it even more disturbing. The action varies from that kind of brutal action to entertainingly over the top gore. So the dramatic moments have an extra punch to them and the sillier scenes are even more entertaining. Murphy has a partner named Anne who is a serious help throughout the film instead of being a damsel in distress and she has a few really good action moments. The musical score is appropriately epic and adds greatly to the various action scenes.

You have twenty seconds to comply
​
[HEADING=2]Characters and Acting[/HEADING]
Robocop is VERY well played by Peter Weller. He shows both a very human side and a robotic mostly emotionless side. One particular scene where he revisits his home after becoming Robocop tugs at the heart strings because while he seems very robotic you sense a human inner pain throughout the scene. Nancy Allen plays his partner Anne who I mentioned earlier. Her performance is a bit more mixed. She pulls off her part, but she reacts to a few things rather strangely. When Murphy is killed by the criminals at the beginning of the film she doesn?t actually seem all that freaked out and just kind of acts like she isn't seeing what we are seeing and it hurts the scene. The rest of her performance is fine, but scenes like that lowered its quality. The leader of the criminals is Clarence. (Kurtwood Smith) He plays a psychopath who revels in being a psychopath. He takes joy in murdering cops and destroying property. He does a pretty good job and is pretty memorable. Ronny Cox also does a great job at being the cold emotionless studio executive Dick Jones. Lastly Miguel Ferrer plays the corporate weasel Bob Morton who is trying to take Dick's position in the company.
[img height200]http://www.kurzweilai.net/images/robocop.jpg[/img]
Awesome. Just awesome​
[HEADING=2]Random other thoughts that I can't really say enough about for them to have their own section, but are still important.[/HEADING]
The effect for O.C.P's original attempt at a Robocop has not aged well. Surprisingly the rest of the effects hold up pretty well. Murphy's Robocop costume still looks very good today. The film has quite a bit of social satire (mostly about privatization) that is shown through commercials throughout the film. The satire also finds its way into the main story quite a few times and the film is better for it. The social satire is still pretty relevant and funny after nearly twenty five years. Sometimes the lower level criminals ham it up too much which causes a few scenes to come off cheesier then they need to. I also like the fact that this film is very self contained. The whole story is wrapped up at the end and the sequel tells a separate tale.
That 70's Show should have included that Red would become a cop killer in the eighties.
​
[HEADING=2]Final Thoughts[/HEADING]
Robocop is a great action film that still holds up nearly twenty five years later. The performances are good and the satire is still fresh. I recommend this film to pretty much anyone, but the faint of heart. The film is currently able to be streamed on Netflix.
As an added bonus here is the song I was listening too while I wrote this.
NEXT REVIEW: ROBOCOP 2. THEN ROBOCOP 3.
Gremlins [http://www.escapistmagazine.com/forums/read/326.304009-Gremlins-A-no-Nostalgia-review] Crank [http://www.escapistmagazine.com/forums/read/326.304634-Crank-A-no-Nostalgia-Review] Crank:HIGH VOLTAGE [http://www.escapistmagazine.com/forums/read/326.304934-Crank-2-HIGH-VOLTAGE-A-no-Nostalgia-Review#comment_form] Season of the Witch [http://www.escapistmagazine.com/forums/read/326.306908-Season-of-the-Witch-A-no-Nostalgia-Review]