Apr 29, 2020
805
909
98
Country

United States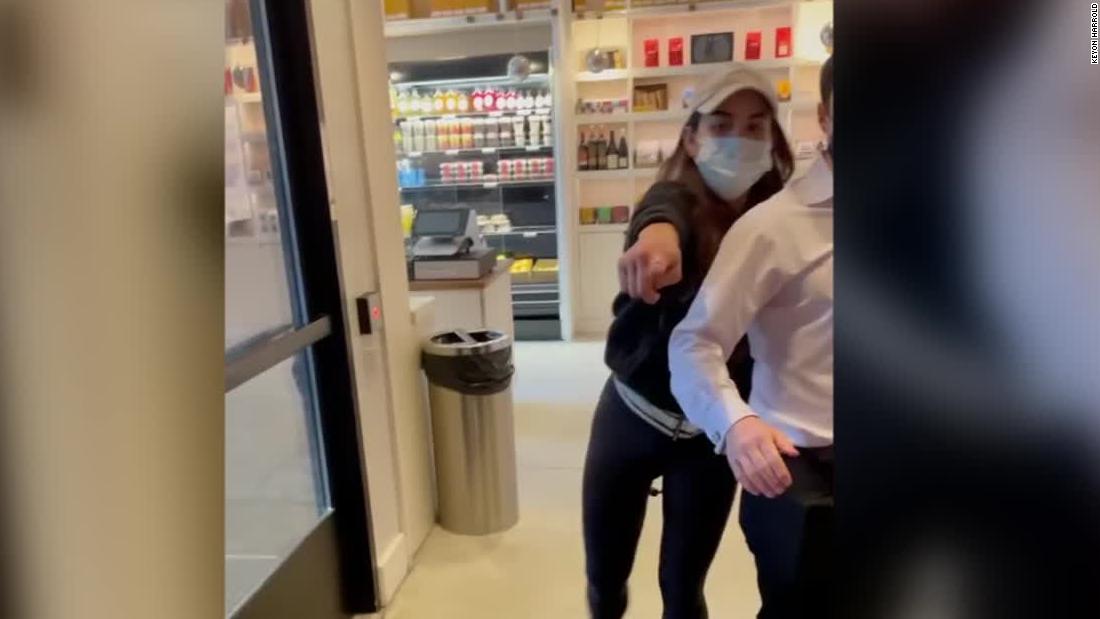 Prosecutors in New York City are investigating an incident in which a jazz musician said his 14-year-old son was attacked by a woman who falsely accused him of taking her iPhone.

www.cnn.com
Prosecutors in New York City are investigating an incident in which a jazz musician said his 14-year-old son was attacked by a woman who falsely accused him of taking her iPhone.

Trumpeter Keyon Harrold posted

a video taken with his phone

that shows the woman making claims against his son on Saturday at the Arlo SoHo boutique hotel.

Harrold and his son are Black and were guests at the hotel in lower Manhattan. The ethnicity of the woman in the video is not clear, although New York police described her as White.

His video of the encounter has been widely shared on social media, prompting an outcry about what many felt was yet another incident of racial profiling against Black men. The hotel apologized and called the woman's behavior a "baseless accusation, prejudice and assault against an innocent guest."

The prominent jazz trumpeter spoke Wednesday at a news conference and rally near the steps of New York's City Hall, where he was accompanied by civil rights attorney Ben Crump and the Rev. Al Sharpton. He also followed a rendition of "America the Beautiful" with "We Shall Overcome" in the late December chill.

"If I wasn't who I was .. this wouldn't even be an issue," he said before a meeting with the district attorney that was -- according to Crump -- arranged by Sharpton.

Harrold, who is from Ferguson, Missouri, said he had been racially profiled himself throughout his life. He noted that the hotel episode could have ended "wrongly" had he not been with his son at the moment.

...

The elder Harrold responds, "Are you kidding me? You feel like there's only one iPhone made in the world?" A man who identifies himself as the hotel manager asks to see the phone but the teen's father refuses. "I'm trying to settle this situation," the manager says.

In the video, when Harrold and his son attempt to leave the woman approaches them, saying, "I'm not letting him walk away with my phone." The video then shows her on the floor, but it's unclear how she landed there. She approaches them again and the teen's father is heard shouting for her to get her hands off before the video cuts out.

In

his Instagram post

, Harrold said the woman scratched him and grabbed his son. He told NBC that after the video cut off, the woman, "tackled my son, you know, trying to reach in his pockets, reach in my pockets."

Harrold suffered slight injuries but his son was not injured, the NYPD said. His son

told ABC's "Good Morning America"

that he's "shell-shocked."

"I don't know what would have happened if my Dad wasn't there, honestly," the teen said. Asked what he would say if he got the opportunity to speak to the woman, he said he'd expect an apology. Then he said he'd ask her, "why would she do something like this to a kid who has never met you at all?"

The woman's phone was returned to her at the hotel moments after the incident by a ride-share vehicle she used to try to check into the hotel, Harrison said.
The racial element is there. We know that. But this woman grabbed on a 14 year old, reached for his property, and injured both the father and the son.
She was not arrested. At the time of this thread, she wasn't even brought up on charges.
So I'm trying to figure out is the more pressing thing. That this woman can commit assault, be completely wrong about everything, and the police take their time to decide what to do next? Or that this is another case of "Look, there's a black person. Finally, an outlet of all the ills that have befell me in the last couple of minutes!"
I'm personally leaning towards the side of racial inequity, because there doesn't seem to be a police imperative to aid the actual victims of this matter as speedily as they do when it's a black suspect. If it's a black suspect, it's arrest and sort all the information out when you can get it. Now, though, black people were aggrieved and the police are taking their time to "get it right".
And yes, I wouldn't be saying anything if this was standard procedure for everyone. That's essentially the point.