& His Royal +4 Bucket of Doom
Castlevania has always been one of those names that evokes some pretty hardcore nostalgia for me. It was the first Nintendo game I ever rented, waaaaay back in the day back.
Pictured: The 1980's.
Not Pictured: Dignity.
So my heroes were all from Ninty's many worlds of wonder. Y'see, as a kid, Nintendo pretty much ruled the world.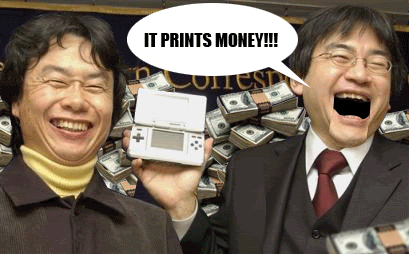 There is much evidence to indicate that they are on a mission to make that statement literal.
Castlevania was frequently among the places I would visit as a kid, with that small square of plastic in my hand, guiding my adventure with it's big, shiny, candy-like buttons. Simon Belmont was among the first and brightest jewels in the hero crown, as far as I was concerned, right alongside Ninty's other mascots. Castlevania 2, however, could die in a fire for all I cared. A cancer fire. A cancer fire that is made of rusty knives. (I'm kinda bitter about it is my point...)
I had this really great dream where these two things had to fight to see who could stay in existence and who had to be completely eradicated from the universe. The dream was great because they both lost, and therefore, everyone else won.
Time went on and I grew up, my gaming became more diverse. More consoles came and went, and Nintendo's crown jewels carried on into new adventures with new technology and its mind-blowing graphics. Don't even get me started on my first Mode-7 induced semi. I followed all the greats under the Nintendo flag into this new realm eagerly, as it kept leaping forward into the future with great strides of awesome. That is, except for Castlevania...

You have to understand, Super Castlevania IV on the SNES is the last 'Vania I ever really fully played until now. I never played any of the Playstation or portable titles. No Aria, no Rondo, no nuthin'. I did however, briefly, play the N64 game.
This was my face when I did. Except less asian and even less female.
So when I heard they were releasing a new Castlevania on XBLA, I was kinda 'meh' about it.

For one, it seemed to be all about the sequels, sharing many of the same aspects as what I refer to as the "Something of Something" entries. Like Rondo of Blood or Fancy Word for Song of Fancy, Pretentious Emotion.
This is probably your face right now.
Despite my reservations, I was willing to give it a shot, mostly because I heard there was multiplayer and the idea of Castlevania possibly being all New Super Mario Bros Wii-like was too tempting to ignore. So, I plopped down my 1600 MS points (or about $15 smackers) and dove right in. The sticky feeling that washed over me for paying Microsoft for a dose of 80's NES nostalgia still hasn't entirely gone away.

So, without further ado, the review;

After downloading the game, I entered single player in an attempt to familiarize myself with everything I could before heading into multiplayer, where I heard all the action was at. I chose my character, of which there was five. People named Alucard, Somas, Shanoa, Jonathan and Charlotte, none of whom I know anything about save for Alucard. (HINT: It's Dracula backwards. I know, mind=blown, amirite?)

I've also heard rumors of a hidden 6th character that is unlocked by completing all stages on Hard after beating them on normal to unlock the higher difficulty. What with there being 6 player slots in a team for online play, this rumor has some foundation in rationale.




Picking Jonathan as my character, I began the first stage, and got to whipping some zombies. Perhaps choosing Jonathan was Castlevania's way of apologizing to me for using all the new characters, because he played a lot like a Belmont. His weapon was a whip, and he had the familiar dagger as a sub weapon. He could double jump, unlike his forefathers, so he was way more manueverable. The somewhat sticky contols were familiar, too, but were easy re-learn, affording pretty tight and responsive movement after just a bit of playing. Also new, (to me, at least) were the slide kick and backwards dash. I could also assume a defensive stance with the right bumper to ward off enemy attacks and take less damage from hits. There is even a downward kick/stomp/bounce attack that can be executed by pressing down and attack during your second jump. This can be used to 'goomba' enemies repeatedly if you can master the timing.
Goomba - def. n., v.; NOT FUCKING THIS.
In a shot of straight, unfiltered nostalgia flashback, I could hold down the attack button and wiggle my chain whip around like a madman with the d-pad (or left stick, your choice), like in Super Castlevania.

So, playing through the first stage, I was getting my bearings fine, and the difficulty was pretty decent. I died a few times getting the layout of the stage down. Being able to zoom out to 4 different view distances really helped with navigation. You start off with 3, but you can go into the options to add the fourth size zoom, if you want. You cycle betteen them, on the fly, by pressing the right stick in. You can even set the speed at which it zooms.

During my first couple of outings, I noticed the treasures I was earning could be equipped to boost my stats, or sold off at the shop, where more goods could also be purchased. NOTE: The Main Menu option once you're in the game proper, actually takes you to your character's inventory screen, not the actual main menu. Be grateful for that tip, as I went two days before figuring it out. I was constantly waiting until a stage started, so I could use the book/totem thingies there to access and equip any new gear. The laughter that came from my companions in XBL, as I revealed this tidbit of info, was boisterous, embarrassing laughter. You're welcome.

The items you get from chests scattered about the stages can be assigned much like I hear you can in the Something of Something 'Vanias. Hats/helmets, armor, boots, capes, accessories, the whole fried noodle. They're random, and in co-op, when a chest is opened, everyone gets a different random prize, of varying rarity, so there's no worry about treasure hogs. The only exception are Waters of Life, which only go to the person who opens the chest, so if you have one already, make sure and let a teammate get the next. It's in your best interest, and I'll go into the Waters of Life's function more a in a bit.

Anyway, while I was getting some good loot and having a blast navigating the giant stage, I couldn't quite get to the boss and defeat it, so I took to the Co-op Online option for backup. And wow... lemme tell you now; Multi-player Castlevania is BAD ASS.
It's like this, wrapped with metal spikes, leather and Jean-Claude Van Damme.
Using some of the most swear free teamwork I've ever experienced on XBL, we proceeded to coat the walls in monster goo like it we were being paid by a hot, slutty lady to. It was glorious. My first group had a Shanoa, two Alucards, me as Jonathan and a couple of Soma's. I like how the game has different color palletes for characters, so if you wanted, you could have 6 Alucards bulldozing through Dracula's castle. Oh, and PROTIP: When selecting your character's color, hold the right trigger to change his voice actor to Japanese. The difference between Jonathan's cry of "It's Showtime!" in English and his eastern "Ee Shoou time!" made me giggle.

So, with the help of some very friendly compatriots, we encountered the first boss. There was a nice twist when we found him that surprised me, that I won't entirely ruin here, but let's just say that the bosses interact with you long before you reach them in this game.

Speaking of teams, teamwork is near-critical in co-op play, as there are many switches and levers, through different branching paths of the stages, that are kinda designed to inspire it. Of course, they don't have to be completed with teamwork, as you can beat the game single player-wise, but they serve to speed up your progress, allowing you to get to areas that would be hard or time-consuming to reach alone. And in this game, time is key.

Key, because each stage has a time limit, and I've seen a lot of reviews complaining that this is the game's main flaw. I propose that they think this because they totally suck and probably played the game once or twice before passing judgement. Whiney, "This is stupid. It's too hard and stupid and it sucks." kind of judgement.

See, you get about 30 mins, approximately, to beat the stage boss, which is your main goal. A player dying takes a small bit of time off the clock, but no more than a minute or so. But if you die as a skeleton (Yeah, a skeleton. I'll get to that soon, too), you lose a huge chunk of time, more like 4-ish minutes. If the timer runs out, yeah, you fail the stage. But unless I was under-powered against a harder, more advanced stage or boss, I usually came out of it with the 'W' and about 10-15 minutes to spare. After practice and scoring some good equipment, I was breezing through the first couple of stages like the log flume in hell; quick and leaving everything wet with blood.
Kinda like this. But with more whips, blood and screaming.
Now, about the skeleton and Waters of Life stuff I mentioned earlier...

When your health reaches 0 in this game, you become a skeleton, complete with annoying bone attack! You still have your double jump, but lose your ability to duck or do anything else other than 'jump, double jump, bone'.

Also, be careful where you die, as you leave a grave marker where you met your end, and that's where you'll respawn as a skeleton if you die again.

If you are unfortunately struck with this sudden, persistent case of dead, your compatriots can use Waters of Life that are found in blue chests about the stage to revive you to full life and Mastery (which they've decided on, instead of the more common Magic, MP, Mana, whatever...).

As for the stages themselves, they're huge. Navigating them can take some time if you're unfamiliar with them, but getting lost almost always leads to treasure or a shortcut you can use later. A few of the stages actually serve as weapons you can use against the bosses! And while I won't give any specifics, let's just say that teamwork can net you some pretty satisfying "YEEEEEEEEEAAAAAAAAAH!!! Take that, you fucker! Did you guys see that? OMG, fuckin' STAGE PWND!" moments.

As I mentioned way back at the top, there are 6 stages, with Hard difficulty unlocked after beating them all. And trust me, after building up all my stats with awesome armor and stuff I'd collected, and being able to breeze through the normal diff stages, I wasn't expecting the lesson in humility Hard Mode beat back into my frail, broken insta-corpse. It felt like starting the game over, only I had all this equipment that was supposed to be hardcore doing all it could to keep me from becoming a liquid. Of course, you unlock more powerful (and more expensive) items from the store once you have access to hard mode, and the items from drops are also stronger, so it doesn't take too long to grind your way back up to respectable levels of badassitude.


How is this not in the dictionary already? Has spellcheck never
seen
Predator?
I forgot to mention, but the characters all have different powers and abilities that you can swap out. For Jonathan, I found more sub weapons, including the trusty cross, axe and holy water, along with newcomers (to me, at least), shurikens, ricochet bullets, a fucking wrecking ball, and The Bible. Using them frequently seems to power them up, letting them do more damage over time. He also has Martial Arts, which can be found as scrolls, that unlock new, Street Fighter-esque moves, raising vampire-face-rocking levels to new heights, including a Shoryuken, a Tiger Knee and more, which are performed be entering commands like down, down forward, forward+attack.

From what I've seen other people do, Charlotte can learn enemy spells by absorbing them first with her defensive stance, and adding them to her skill set, kinda like Final Fantasy's blue magic.

Sharoa can make use of jewels strategically placed throughout the stages to 'slingshot' her way to higher areas that others can't quite reach.

Alucard blocks by turning to a puff of mist, and can use magic spells.

Soma uses guns and other weapons to do great long range damage, including RPG's.

I haven't really used anyone other than Jonathan, so I can't really give you to much more on their individual abilities, but you wouldn't want me to spill all the beans, anyway. As a side note, characters with sufficient Mastery can perform tag-team super attacks by standing together and pressing the right trigger, for massive damage and cool visual effects. Different combinations of characters yield different super team attacks, too.




There's also a multiplayer versus mode, but I haven't gotten into it yet, but I do know that the gear you get in the regular game is used in the versus mode, so I'm waiting until I have the best stuff I can have, so I can just go in and wreck shit right off the bat.

Additionally, if you're interested in the soundtrack, I can testify that it, indeed, rocks and complements the stages well. Some of my co-op friends online mentioned that they're re-vamped tunes from earlier Something of something games, but to me, it's just pure Castlevania in music form, complete with catchy licks and a driving pace that pushes you onwards, through the danger, whip fully extended.
FULLY extended.
FINAL RESULTS:

Well, we've come to the end of my in-depth review of Castlevania: Harmony of Despair for XBLA, and all that's left is the summary and my final impressions.

Graphics: Pretty and detailed, with 16-bit nostalgia pushed to the new-wave limit.

While stunning and colorful in HD, I gotta tell you, on standard definition, this might look cluttered. In HD, the sharpness of every pixel helps with the intricate details of the backgrounds in this game. Seeing bunches of food on kitchen tables, or heaps of different jewelry in a hoard pile, scatter as you land on them really adds to the visuals. The character designs reflect the game each character was from, from what I'm told. Alucard has more detail, a la Playstation design and graphics, while Jonathan has a more GBA look to him. The animations are great and the bosses and levels are truly worth seeing. Stage 4's boss room is my favorite.

Gameplay: A fun series of hamster tunnels, with loot and mighty displays of power.

If you're not comfortable with somewhat stiff controls, you've never played Castlevania. But if you give it a bit of slack, you can pick it up pretty easily, and it'll soon be as natural as anything else. The combat is fun and quick, packed with strategic ways to assault certain types of enemies. As always, learning patterns opens up the doors to look like a pro against seemingly tough opponents. Though I will say, if you're not a fan of Castlevania and possessing of a desire to constantly explore and improve your character (a.k.a. grinding), you may have some issues here.

Sound/Music: Sorry, I can't hear the music over the sound of my WRECKING BALL SLAPPING DRACULA IN THE FACE REPEATEDLY. But what I heard before that sounded a-ight.

While the music rocks, and it hasn't happened to me yet, I can see how some people would find it repetitive, especially since there's only 6 stages. The characters voices sound great, and the ability to change their spoken dialogue to Japanese is a really nice bonus.

Story: Uhm.... kill Dracula?

Yeah, there's not a lot going on here, story wise, but hell, the only story I got with my Castlevania's was, "Hey. That Dracula guy is up to no good. Go smack him around, wouldja?", so I'm all set here. I actually think I have an advantage here, as I'm not spoiled by what I'm sure are complex and detailed storylines from the Something of Something games.

Overall, I give this game a rating of: Fun times.

I hope you've enjoyed my review, now if you'll excuse me, I've got to go put a chain-whip through a zombie's chest. Hope to see you in there, fellow slayers! (The game... not the zombie chest)

*WHIPCRACK!*