Just a question I like to wonder about sometimes and one I thought I'd inflict on the good people of the Escapist. Sword-play is one of the most iconic fighting styles in all fiction, even making it's way into genres that wouldn't normally accommodate it. So my question is out of all the varied swordsmen and women found in movies, books, games, etc. which among them would you say is the best?
Two rules to keep in mind:
1. Swords only. Any other devices or gear commonly associated with the character will not come into play. For example Link of Legend of Zelda fame could compete but he could not use any of his items.
2. No enhanced abilities for the combatant or the weapon. For example Luke Skywalker of Star Wars could compete but he would not have access to the Force, nor would his lightsaber be able to cut through his opponent's weapon.
3. Nonhumans can compete but like the above rule their abilities/traits will brought down to a "normal" human level. So Pit from Kid Icarus could compete, but he would not be able to use his wings. Or his bow for that matter.
To start things out I'm going to nominate Kenshin Himura from
Rurouni Kenshin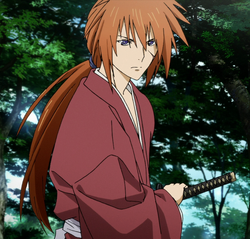 Points in his favor:
1. He's a former assassin so he knows how to take opponents down very quickly.
2. He's fast and has very good reflexes.
3. Has experience against a wide variety of opponents.
4. Katanas are just better. [http://tvtropes.org/pmwiki/pmwiki.php/Main/KatanasAreJustBetter]