Martintox Presents: Disorder Reviews
Rating System
----
COOKING WITH TIPPY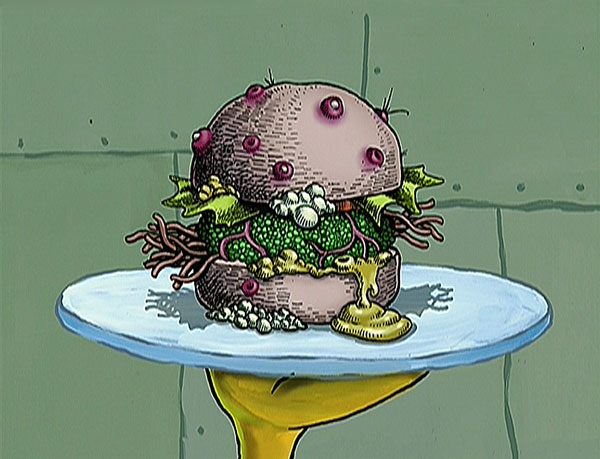 (non-dramatized depiction)
​
Host:
tippy2k2
Airing Date:
2019 - present
Genre:
cooking, instructional, lovecraftian horror
----

"The oldest and strongest emotion of mankind is fear, and the oldest and strongest kind of fear is fear of the unknown."
- The guy who wrote the really good spooky stories about black people​
Does mankind's doom lie in his malevolence or his hubris? Insidious is the malice that takes root in every heart and feasts upon its selfish desires, but does a kingdom not fall as soon as its guardians believe themselves unmatched? Is it not by our arrogance that we dare not think of the beasts too fierce to recoil from fire, too nimble to lose sight of a horse, too tough for blades or arrows to pierce its scales? If evil without and within continue to catch us by surprise, it's because we do not know to expect them until it is far too late: as has happened many times before, our arsenal will prove powerless against a danger thought unthinkable, and we will suffer the consequences only to make new weapons, fooled by the conceit that we might have learned from our mistakes for good. Ultimately, even a disastrous cycle of the such is preferable to the horrifying alternative: that our tools may instead hold power so far beyond our expectations that they instead become our very undoing.
Tippy2k2 was once part of my fold -- an Ugly Bastard more than worthy of the name, perhaps even the greatest of them all. From his birth, he has been molded and trained for the very purpose of destroying the weeaboo, with powers that my other children could not even hope to grasp with their greasy hands: to cite only one example, his uncanny ability to claim David Cage is a better video game director than Yoko Taro has been enough to send many a weeb into a hysterical fit of rage. Not once did I doubt his talents; I was certain that he would be our final weapon to undo Japan's stranglehold on the Western mind. Alas... not even the God of Ugly Bastards can afford such confidence. You can only give a man so much power before his thoughts turn to delusions of grandeur -- sooner rather than later, the apprentice will seek to upend his master. He was no longer content with uprooting the weeaboo from the rotting gutters that had become their home. He vowed to be the ultimate Ugly Bastard, ready to cuckold the entire human race from all that it held dear, and his first target was to be the world of cuisine.
To call
Cooking With Tippy
a cooking show would be akin to claiming a ransom picture is photography: such an assessment is technically true, but the work in question is more of a threat than a piece of entertainment. Its host machinates in secret and only barely offers a glimpse of the sinister concoctions that he seeks to refine. A man with such talents in NTR does not need to study or read: he learns and improves on his craft through endless practice, in hopes of brewing a meal so foul that even Gordon Ramsey, Saint of Chefs, would feel his stomach twist and turn to become an endless chasm that would swallow him into the culinary aether. If we know so little of Tippy's show, it's not out of mercy: he is simply not yet ready to unveil the first step in his grand scheme to irreversibly corrupt this fragile Earth. It's at this point that I deem it fair to lay down a warning: if you are frail of heart or in the process of eating, I highly recommend you do not open the following spoiler tag. In truth, I have high reason to believe that posting a still from
Cooking With Tippy
breaks site rules as some form of promotion of bioterrorism. Nonetheless, there is no better way to make you understand the sheer gravity of the situation:
If you are reading this paragraph, I can only assume you've consequently gazed upon the photo above. While the texture of the potatoes is already extremely dubious, the centerpiece is the meatloaf, a piece of body horror that would have made David Cronenberg recoil during the filming of
The Fly
. This is not food: you are witnessing a living organism that has assimilated the meat through fungal processes far beyond the understanding of any biologist. I know, for a fact, that Tippy eats such freaks of nature. Does he believe the consumption of these monstrous beings will grant him further strength, or does he instead hope that one of his creations will be able to overcome his digestive system and draw upon his Ugly Bastard power so as to wreak havok upon the mortal world, unable to think, let alone be tamed?
Don't get any false hopes: it is far too late to stop this. Disorder knows I've tried to bring Tippy back to his senses, but every time I tried to call him, he was too busy playing golf, even at 2 in the morning. It is only a matter of time before the eldritch void of his mind is no longer able to contain the twisted dreams that are the source of his cooking. Soon, all the appetites of the Earth will become silent. To the weeaboos that have taken my words for granted, brushed them aside as the preachings of the village idiot, let this be my ultimate warning: in my pursuit of your rehabilitation and/or destruction, I have been brought to create an evil such as Tippy. You could have gone out and tried to have sex with real women, yet you have chosen to make waifu tier lists and read visual novels. You made me do this. Think about that, if you are still able to do such a thing. In fact, let me give you another example if the last image hasn't convinced you:
----
PERSONAL RATING: ****½
RECOMMENDATION RATING: [zero stars]
LETTERED RATING: D
----
THE UNDERTALE REMINDER
​
Butterscotch and cinnamon are an absolutely terrible combination. I would rather eat a car than butterscotch cinnamon pie. There's no way in hell Toriel should have taken custody of the kids when she engages in culinary child abuse like that.
Last edited: