Hello, and welcome to the third edition of
Where our ace attorneys debate our favorite games!
​
Let's bring out our ace attorneys now!
.
.
.
.
.
.
On the defense, as always, is
Phoenix Wright!
Phoenix: It's great to be back after that long break!
And on the prosecution once again, it's
Miles Edgeworth!
Edgeworth: I'm FINALLY back! The prosecution is ready.
For those reading OBJECTION! for the first time, here's how this is gonna work. This is a review done in an Ace Attorney cross-examination style, arguing the pros and cons of the item being reviewed. Edgeworth tries to pick the game apart, and Phoenix tries to defend it. The facts of the item will be given in a series of
testimonies
. When the attorneys can find a good point to be made about the item arguing for their side, they point it out. The other side may respond with objections or in other ways if they wish to do so. In the end, I,
The Judge
, will pass judgment on whether or not the item is guilty of wasting a gamer's time and money.
Alright then, let's get started. Today's review is a new look to a long-running, long-respected franchise. It's
Sonic 4: Episode 1!
For game reviews, we will hear testimony about the game's
story
,
presentation
, and
gameplay
. So... let's get ready to ARGUUUUUUUUEEE!!!
[HEADING=2]Story[/HEADING]
As a return to the original 1990s series of Sonic games, the story takes up where Sonic 3 (and Knuckles) left off. The second Death Egg is destroyed, but Dr. Eggman...
Edgeworth:
OBJECTION!
His name should be Dr. Robotnik!
OVERRULED!
The name was officially changed with the transition to 3-D, and he has been called Eggman, even in the subsequent 2-D games, ever since. Furthermore, Eggman was the original Japanese name for the Doctor as well. Robotnik may indeed sound MUCH cooler, but we're just going to have to live with the change. Why did you interrupt the testimony for something so pointless anyway?
Edgeworth: I was going to save it for the middle of a debate, but it's so annoying I felt I had to say something now.
Phoenix: Edgeworth, you got
BURNED!!!
One more pointless outburst from either of you and you'll be put in contempt!
Phoenix
/
Edgeworth
:... excuse me.
Continue with the testimony.
Dr. Eggman... survived the crash and is still intent on ridding himself of the blue blur and getting a hold of the Chaos Emeralds. The Emeralds have again scattered themselves across the zones of the planet Mobius, and it's up to Sonic to track them down and keep them away from the Doctor as he cooks up his new schemes in his E.G.G. Station.
Edgeworth:
HOLD IT!
So how do these emeralds keep getting themselves lost? Can't Sonic manage to hang onto them for even a small amount of time? You would think he would have learned by now.
Phoenix:
OBJECTION!
In each of those points in the story, the Emeralds either vanished after use (much like the Dragonballs) or they were stolen. It may not be a pretty explanation, but that's what it is.
Edgeworth: But let's just take a look at the story as it stands. It's really no different from any of the first 3 Sonic games. Robotnik is building another giant space fortress and turning animals into robots, Sonic runs around Mobius collecting emeralds, then goes and destroys said giant space fortress. Rinse, repeat. Do you want to know why the story of pretty much every Sonic game since the Dreamcast days has been awful, and they're essentially resurrecting the story now? It's because this story isn't much of a base to build off of at all. It was never given much thought until the advent of more story-based 3D gaming.
Phoenix:
OBJECTION!
This is another one of those games that isn't really played for the story. People don't really finish any Sonic game thinking, "That story was amazing! I want to learn more." They think, "Wow, Sonic is fast! It's fun to zip around the levels and go over loops." What part of that statement even needs a story? The story is practically irrelevant to the enjoyment of a Sonic game. Plenty of other game franchises out there are the same way.
Further, there is a glaring contradiction in your statement. Sonic 2, 3, and Knuckles were all one large story arc known as the
Death Egg Saga
. The Death Egg is the name of Eggman's giant space weapon. Sonic destroyed it before it was operational in Sonic 2. Sonic 3 and Sonic and Knuckles are one continuous story, that was actually supposed to be put together in one game. When you connect Sonic 3 to Sonic and Knuckles, you are actually playing Sonic 3 as the developers originally wanted it to be. In that story, the Death Egg becomes operational during the boss battle of Lava Reef Zone in Sonic's version of the game.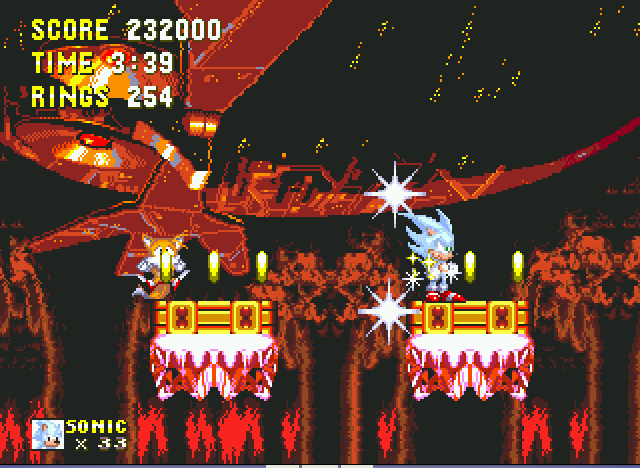 Sonic must go back to the Death Egg and destroy it a second time. Sonic 4 is supposed to be a continuation of that same story, but since we only have one episode, we cannot see that entire story yet. I would reserve judgment on the story until we get all the episodes.
[HEADING=2]Presentation[/HEADING]
This game definitely has the look of the Sega Genesis/Mega Drive Sonic games, with a rather large graphical update. Many call this the ?2.5D? look, essentially using 3D-style graphics in a 2D game. New Super Mario Brothers and Street Fighter 4 are good examples of this style. Sonic's run animations have a complete flow to them, and there is no lag or screen tearing when Sonic is moving at a rapid pace. Also like Sonic 3 and Sonic and Knuckles, there is a different music track for each act in a zone, providing 3 different musical themes to the zone. There are 4 zones to play plus the final boss zone, each inspired by a popular zone or trend from previous games.
Edgeworth:
OBJECTION!
"Inspired", you say? How about blatantly stolen? Sonic Team claims that these zones are unique, but there's not really much unique about them. Just look at their names and you know what they're copying. Splash Hill Zone can be forgiven. All Sonic games have some sort of Green Hill Zone homage.
.
.
.
.
.
.
.
Green Hill Zone​
Splash Hill Zone​
.
But there's no excuse for the others. We don't need re-hashed Casino Night, Labyrinth and Metropolis Zones.
.
.
.
.
.
.
.
Casino Night Zone​
Casino Street Zone​
.
We need originality to really show that Sonic is making a comeback to the Sonic fans know and love. I'm not going to argue that at least Splash Hill and Casino Street aren't fun, but it would be nice to see that fun taken in new directions.
Phoenix:
OBJECTION!
So you're saying that you want to see something new. Can I ask something that I'm sure Sega would love to know too? Exactly what do Sonic fans want? They have complained ever since Sonic first stepped into 3D that Sonic has lost so many things that fans grew up with. Well, what did he lose, and how can it be brought back? What will satisfy these people? Sega has essentially made a new Sonic game in the exact style that nostalgic Sonic fans were pining for, and now they're criticizing them for putting out a lame remake. Sega was only doing what the fans asked of them, and the fans tuned on them. What will make the fans happy? Huh, Edgeworth? I pose the question to you.
Edgeworth: You're asking ME?!?!?
Phoenix: You seemed to object on behalf of those nostalgic fans. I would think you should be able to answer that question, or else I would have to call for an end to this trial and ask for a Not Guilty verdict on the grounds of dealing with an Unpleasable Fanbase. [http://tvtropes.org/pmwiki/pmwiki.php/Main/UnpleasableFanbase]
Edgeworth: Well... first off, I have to say that's a low blow, blaming the fans. The fans are the consumers that we do this little trial for. If that guy up there is the Judge, the fans are the jury. They ultimately decide if a game is worth playing.
But to answer this accusation, I would say the fans want something LIKE what they got with Sonic 4, but without being so blatant about re-hashing old ideas. They would like to see the old speed-based 2D gameplay, put into new worlds, with new challenges to face. Are you suggesting that it would be too much to ask for the developers to have put even a little originality into the level design, rather than taking a bunch of old stuff and throwing it together? They had essentially 16 years to make this game since the release of Sonic and Knuckles, and in that time the only real financial and critical success Sega has really had with the Sonc series has been the original Sonic Adventure, the game released directly after Sonic and Knuckles, and even that couldn't carry the Dreamcast's sales enough to keep it alive for very long. That should have been plenty of time for completely new level designs.
Phoenix:
OBJECTION!
So Sonic 3D Blast never happened?
OVERRULED!
That's irrelevant to the point of the prosecution's argument and you know it.
Edgeworth: Looks like it's your turn to get
BURNED
, Wright.
Let's just get to the next testimony.
[HEADING=2]Gameplay[/HEADING]
Having returned to the style of the older 2D Sonic games, this game also returns to the old 2D style of Sonic gameplay, and it really reaches back. This game is likely most reminiscent of the gameplay of Sonic 2. The insta-shield and variety of collectable shields from Sonic 3 are unavailable. The only available shield in the game is the basic shield from the first and second installments. Likewise, Sonic is the only playable character, a decision likely made to acknowledge that Sonic is overwhelmingly the character of choice in older games to the nostalgic fanbase this game seems to be aiming for. Sonic can jump and curl into a ball on the ground to hit enemies, and has the Spin Dash move introduced in Sonic 2. The homing attack, a core mechanic of 3D Sonic games, makes its 2D debut in this game. It is optional, but the game is made much more difficult without it.
Edgeworth:
OBJECTION!
I was going to wait until the very end of the testimony to speak up, but I just can't anymore, because I feel that the serious gameplay flaws of this game will go unmentioned. It is the prosecution's opinion that the homing attack is the main cause of problems in this game's gameplay. The most glaring flaw is the lack of momentum Sonic has in this game that was so vital to the Sonic games of the past. The player must continually hold down the direction on the control pad or stick to keep Sonic moving. If you let it go, he immediately stops in his tracks, even on inclines or declines. You almost wonder if he will even stop on a 90-degree angle and just stay there.
...And in this video, which I present as evidence, he actually does it. He stops at a 90-degree angle. It also explains the origins of these wonky physics as well.
Phoenix:
OBJECTION!
Doesn't this ability to stop offer the player more control over the character? It was always so annoying in older Sonic games to go careening across the map at full speed, only to slam into some spikes or a badnik and lose all the rings you just collected.
Edgeworth:
OBJECTION!
In case you forgot, Wright, Sonic is a speed-based platformer. A major part of the fun of Sonic is that very ability to cruise at speeds almost faster than the hardware has the ability to process, and to be able to go through large chunks of stages without so much as touching a button. That's a big part of what sells Sonic games. He just feels slower in this game than in previous installments, and the need to hold the button down has a role to play in that. The developers also slowed down his acceleration. Now, why did the developers force stopping Sonic without pressing the button? Why is he slowed down? The answer is very simple. Use of the homing attack was programmed into the game as the primary way Sonic was supposed to build up speed. When Sonic uses the homing attack to destroy a badnik, he gets a boost and can accelerate to top speed. The game also relies on use of the homing attack even in the absence of badniks or springs to clear some gaps. This to me does not sound like making it ?optional?. Doing this has upset many fans of the classic games who were hoping for a true return to the classic gameplay style.
Phoenix:
OBJECTION!
Well, sorry to burst the bubble of classic fans, but clearly they're forgetting how things worked back in those days. Every new game offered a new mechanic to the gameplay while keeping the old ones. Sonic 2 added the spin dash, Sonic 3 added elemental shields and the insta-shield. This game introduces the homing attack. You can't expect the game designers to just say, ?Well, we've got this great new gameplay innovation, but it's completely optional to use.? It's like saying that the raccoon suit was completely optional in Super Mario 3. In fact, it's very much like that, in the sense that technically it was optional, but like you pointed out, Edgeworth, not using it makes the game much more difficult. That's the price you pay for being stubborn and not accepting the help the game offers you.
Edgeworth: I have one more unaddressed gameplay issue, and that is with uncurling too early when moving quickly in a ball or flying through the air. This makes Sonic quite vulnerable to attacks from badniks that could have been avoidable in the original 2-D games. There was really no reason whatsoever to do this, and it is puzzling that they would. Sonic Team has mentioned that they would address this issue in the next installment, but why would you release the first installment like that? It's like they actually decided to test this idea in a public release. Gaming has a term for such releases. It's called beta. Beta versions should not have a price.
Alright, Edgeworth, we get your point. I think it's time for my
[HEADING=2]Verdict[/HEADING]
This is certainly a difficult verdict on the game's own merits. Let's recap them:
Pros
*Return to Sonic's 2-D gaming roots with a next-gen update
*Level design adds new features to classic Sonic conventions
*Sonic's own updated moveset is fun to use
Cons
*Level concepts and themes seem ripped-off from previous Sonic installments
*Game physics and moves difficult, slow and clumsy for a Sonic game
*Late and episodic release is disappointing
As I mentioned before, this is a really hard verdict to make on its own, so I have also decided to consider the direction of the Sonic franchise in recent years. This game shows that Sega is on the right track, even if Sonic 4 does still have glaring flaws. We can show our support for this return to the "golden age" gameplay of Sonic by purchasing this game and helping the developers with our feedback as they prepare future episodes. The potential shown here tips the scales in the game's favor. Therefore, I find Sonic 4: Episode 1...

Phoenix: YEAH! That's a hat-trick for me!
Edgeworth: What are you talking about, Wright? You didn't even earn that!
That's all for today. We should be back soon to do our first movie review on
Check out my first two installments as well:
The Ace Attorney Series [http://www.escapistmagazine.com/forums/read/326.198104-OBJECTION-1-The-Ace-Attorney-Series]
Super Mario Bros. Crossover [http://www.escapistmagazine.com/forums/read/326.198306-OBJECTION-Super-Mario-Crossover#6449676]