Long ago, as the age of man was just beginning, humanity's desire to believe in something greater wrought forth ethereal beings. These concepts, given form and strength by the faith of man, had the power to shape the world as they saw fit. They came into the world as all others, weak and screaming, but within each is infinite potential to grow. Two such groups of these spirits, young and full of potential, had been drawn to two separate human settlements, where they will test their influence on mortals and each other. In time, their fates will intertwine. But in this moment in time, they are too fresh to spread their influence further.
To begin the game, the players will be split into two groups, each working within a different, small, and very basic village. As the game goes on, the size of the world will increase, but for now, 12 spirits in one village is far too congested. Below you will find the group make-ups.

Group 1:
Belmarc - Syllus
booksv2 - Nadur
Dogmatic99 - Sang'regel
Reudyn - The Reaper
Mestizaje - Seras

Group 2:
Arrogancy - Farenal
Rogue Trooper - Evander
Emperor Zuma - Trae
Deu Sex - Obsidian Articifer
DarkRawen - Gyll
Terratina. - Meinir

We understand it's a little unorthodox but it will only last through the first age. Please remember who is in your village.

For posting format, it would be helpful if you posted the name of the character and how much AP/MP they have remaining in bold at the top of every segment involving them. The benefits of this become more apparent as you gain Champions or write for mortals and have more characters you might be using in one post.
Any actions taken should be summed up in a spoiler at the bottom of the post, as well as the domains you are attempting to apply to the action. If more than one of your characters are in the post, please specify which one or ones are making the actions and separate them by name.

We look forward to seeing how you choose to shape your part of the world. Good luck and have fun.
Actions and difficulty:
Keywords:

Assist/Hinder: A spirit may assist another spirit with an action (including an attack), adding their domains to the action, which can ensure success.The assisting spirit must pay an additional half the action?s AP cost (rounded up) and may only use half their relevant domains? strength in the action. Relevant domains will be determined by the GMs. Hindering, negatively affecting the action, is done in a similar manner. Relevant domain strength is also halved (rounded up). [No assisting or hindering can occur with overlapping pantheons i.e. your spirit cannot be assisted by their champion, and two of your champions cannot assist the same spirit/champion.]

Avatar: The physical form you manifest as. Only assume one avatar at a time, but can be nearly anything. Never changes your true form, and other spirits and Champions can always see past any avatar form you take on to see the true self.

Bless- A lasting positive action performed on a mortal or group of mortals.

Create Magic Item (Mortal scale)- These act as D&D magic items. From everlasting chalk to a Handy Haversack to a tricked out Vorpal sword, even the most powerful of these cannot be used to harm spirits or Champions except in extensively-discussed GM-sanctioned unlikely events.

Create Race (non-sentient)- Whether it be large medium or small, please be pretty clear about it's form and habits. Carnivorous rabbits or beetles the size of a T-Rex for example.

Curse- A lasting negative action performed on a mortal or group of mortals.

Enchant: A sustained magical effect over an area.

Forge Magic Item(Ranked 1-2): Through increasingly considerable costs and effort you forge a magic item capable of wielding a fraction of the power of the spirits. Please think carefully about these.

Inspire- A lasting change to the way of thinking of a mortal or group of mortals. Teach actions fall under this Keyword in the absence of other mechanics to handle them.*

Scry- To use divine senses and powers to search over an area.
Note: Please ask 1-4 clear, concise questions you hope to have answered by the scry.

Break: Breaking or undoing an action (curse/bless/enchant) requires a roll equal to the roll used to create that given blessing/curse/enchantment.
Effortless: no roll, not counted as actions
-Conjure up a small quantity of anything
-Listen in on mortal prayers to you.
-Talk to someone(across any distance if known or scried or receive prayers from.)
-Talk to another spirit(across any distance)
-Take on a physical avatar.(spirits may only possess one avatar at a time)

Difficulty: 5 Local Action Cost: 1 AP
-Affect(Bless/Curse/Inspire) a single mortal for the term of their natural life
-Enchant/Scry an area the size of a large room.
-Identify a magic item in your possession; required to register a ranked item for use, and must be done every time another spirit or champion does this to the item.

Difficulty: 7 Village Action Cost: 2 AP
-Affect(Bless/Curse/Inspire) a small group of mortals (less than 50) for life
-Enchant/Scry an area the size of a village or neighborhood.
-Create one Heroic-tier sacred relic.
-Creating or altering a single non-sentient creature smaller than an elephant.

Difficulty: 9 Town Action Cost 3 AP
-Affect(Bless/Curse/Inspire) a large group of mortals(500) for life.
-Enchant/Scry an area the size of a town or small city
-Create a Paragon-tier sacred relic.
-Creating or altering a one-off living creature bigger than a blue whale.
-Creating or altering a non-sentient species smaller than an elephant.

Difficulty: 11 Area Action Cost 4 AP
-Affect (Bless/Curse/Inspire) a very large group of mortals(2000) for life.
-Enchant/Scry an area the side of a Large City or a town and surrounding countryside.
-Create an Epic-tier sacred relic.
-Creating or altering a non-sentient species larger than an elephant.
-Start a covenant. Create a religious order that follows a set of ideals based on the principles of your god. (Must explain how this relates to your god and must be cleared by a GM)
-Grant genuine immortality and invulnerability to a single mortal. They will gain the quality Immortal +0 as long as their spirit still lives. This does not include superpowers (eg the ability to break out of a prison cell) Nor are they immune to attack by other spirits or mortals with ranked items.

Difficulty: 13 Regional Action Cost: 5 AP
-Affect (Bless/Curse/Inspire) a huge amount of mortals(5000) for the rest of their lives.
-Enchant/Scry an area of many towns or a metropolis or small Kingdom.
-Forge a +1 Magic Item

*Note: All spirits are aware of DC 15 and above actions, regardless of last recorded location, with very few exceptions.*
Difficulty: 15 Continental Action Cost: 6 AP
-Affect (Bless/Curse/Inspire) an entire race or civilization.
-Enchant/Scry a large area of the game world.
-Forge a +2 Magic item (see Item Forging)
-Turn a mortal or creature into a Champion [Champions begin as +2 Domain, -2 Drawback in the first age of their creation. Second age they become +4 Domain, -2 Drawback and remain so for the duration of the game](Limit 3 Spirits per spirit, is controlled by patron player. Quality and Drawback must be approved by GM)
-Introduce a major change to the world's structure or its atmosphere without causing any lasting damage to the world (eg adding a new moon, new islands etc)

Difficulty: 17 World Action Cost: 7 AP
-Affect (Bless/Curse/Inspire) the entire world(Other players will likely take issue with this)

Difficulty: 19 Planar Action Cost: 2 MP
-Imprison target PC (Note: This is a highly contentious action and must be cleared with GM before even undertaken. Do so at your own peril [Secondary Note: Mythic Point bonus is not factored in Planar Actions] Mythic Point cost can be shared amongst two players)

*A note on actions: if a spirit?s last recorded location is within the area you are affecting, they will be able to notice. If you wish to make an exception to this rule, please talk to the GM or player.*

Item Forging:
Note: Only 1 Ranked item may be forged per age by a player.

Difficulty: 13
Forging a +1 Item
Easier ranked item to create, but perhaps a bit lofty of an aspiration for a fledgling spirit. Forges it magically from the aether. Item can be destroyed by another spirit. Can also reforge a +1 item to a +2 with the same conditions(see below)

Difficulty: 15
Forging a +2 Item
More difficult ranked item. Forged in a similar manner to a +1 item, but requiring the spirit to draw on and work with more aether.
AP (Action Points)
Characters
Name: Farenal

True Appearance: A graying old man in dark robes. He carries a tall white staff. He has a beard neatly trimmed and cool gray-blue eyes. While old in appearance, Farenal gives off an air of wisdom rather than frailty. Age comes with respect and dignity.

Personality: Hard but fair, Farenal is one to set a standard and hold everyone to it. He will uphold order and decorum to the best of his ability, and scorns those who dismiss such. That said, Farenal is also one who engages in building order as well as maintaining it, he enjoys lively debate about how to structure the world, and the interactions between the spirits.

Domains (Prospective):

+6 Justice (initial +4)- Farenal is able to act in the interests of justice and create orders and systems that create and uphold this ideal.

+4 Strength- Farenal understands that strength is a necessary component of creating order. Strength must come first for peace and order to follow, and Farenal can bless and empower his followers, lending his strength to theirs.

+2 Chivalry- Power cannot be unrestrained. It must be disciplined, and held to standards. It must be controlled and principled. It must be chivalric.

Drawback:

-2 Chaos- The antithesis of order, and the harbinger of destruction and anarchy. Farenal hates chaos and its evils with the fiber of his being.
Name: Syllus

Gender: Male

(True) Appearance: Short, proportionally equivalent to 5'6". Thin frame, pale, and swathed in a cloak of shifting shadows. His eyes are gold with black sclera and hair like raven feathers. His grin is wolfish, and all four of his canines are slightly larger and sharper than the average human. His movements are fluid.
(Note: Once he obtains Vengeance as a domain, his cloak can change into a pair of wings.)

Personality: Secretive, but not always quiet. Good at talking around a subject. Selective about friends and close relationships, but extremely loyal to those he chooses. Cares deeply about devout followers, and takes care of those praying for his aid from the shadows. Hold onto grudges and seeks out retribution when the opportunity arises.

Domains: +6 Shadow: Shadows are caught between light and true darkness, being banished or swallowed by either, and requiring both to survive. It is between these two worlds that Syllus has domain, allowing him to manipulate shadows and see what hides there, either to protect it or expose it. Extends into a figurative sense, capable of affecting and looking into the shadows in people's hearts.

+4 Vengeance: Syllus is the symbol of the avenger, and aids those who take this mantel. He seeks out retribution for those that have sinned against him and his folk.

+2 Kinship: Syllus holds domain over the bonds that hold beings together, particularly those that go beyond genetic relation. Those that huddled under his shadow cloak are his family.

Drawback: -2 Fire: The flickering light of a fire makes dancing shadows that are useless for hiding. Man uses this element to cut through the darkness and prolong light's reign, and to find things that would rather stay unfound. Syllus finds himself at a loss with how to work with it.
Name:
Evander
Gender:
Male
(True) Appearance:
Tall, thin muscular build, standing at a height of around 6?1?. Has a tanned complexion and is seen equipped with bronze; greaves, Cuirass and helmet along with a blue embroidered vest, which is worn under his cuirass. His eyes are brown which match his dark brown hair. Evander constantly has a sad agitated look on his face; the sort of look that a person would get following the aftermath of a great battle or the loss of a loved one. His look is supported by his dirty and blood appearance which strengthens the fact that he appears to have walked straight off of a battlefield. Along with his armour, Evander carries a bundle of javelins and a large oval shaped shield.
Personality:
Somber and reflective, with an emotional almost philosophical outlook on the many actions and events which take place within the world. Protects his followers and those that beseech his help with a caring fatherly nature, he will go to any lengths to ensure that they are protected from harm. Also has a liking to the use of javelins, which has resulted in it becoming the signature weapon of his followers.
Domains:
+6 Protection: Evander has become the symbol of protection within the world and will offer his protection to those that worship him. He will protect his followers from violence, diseases, misfortune and anything else that may appear.
+4 Sorrow: An emotional spirit, Evander will seek to comfort those who have lost something dear to them in this world and will watch over them, until they can continue on their own.
+2 Strength: While a protector, Evander sees that having strength, may that be physical or mental can overcome and even prevent loss of any kind. His followers that are Soldiers often pray to him for strength in their duties.
Drawback:
-2 Murder: A task that Evander cannot do or condone. In his eyes, murder is a selfless act that only brings pain. Anyone who does such a thing deserves to be looked down upon.
Name:
Trae
Gender:
Male
(True) Appearance:
A literal embodiment of his domain, Trae appears as a living tree. He is able to move, though slowly, but he can also take root and meld with his surroundings in times of dormancy or meditation.
Note: The more powerful he gets, the larger Trae grows, until finally he is large enough to support an ecosystem on his own back.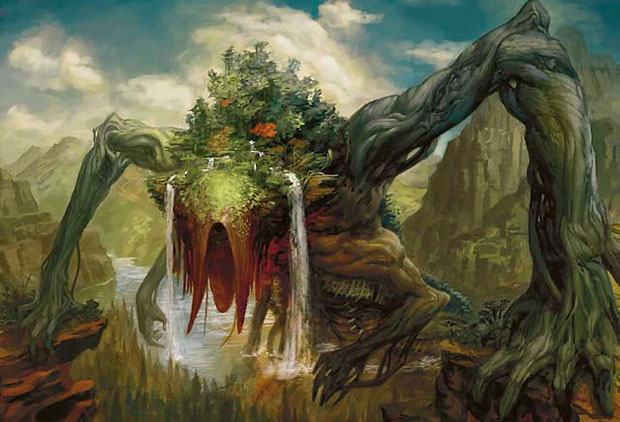 Personality:
Consistent, methodical, and slow, Trae marches ever onward toward his goal. He seeks to understand before taking drastic action, but will move towards his end objective at a constant pace. He bares no ill will towards his enemies, nor special fondness for his followers or creations, as existence is a constant battle for survival.
Domain:
Nature [+4 (12)]
- The wild and the domesticated, the wielded and the untamed, what grows, flourishes, and eventually dies, this is the domain of nature. It can be seen as what gives the world beauty, or is the grime that eats away at the more fundamental forces. It can be as peaceful as a meadow, where the blooming flowers inspire those that look upon them; or as violent as the jungle, where everything works to win the eternal competition for survival. Strive to thrive, evolve to survive, and, despite everything, live.
Drawback:
Civilization [-2]
- Being entirely a human invention, Trae knows little about it; and even when he can understand a small portion of it, the humans then go about changing it! Because of this, Trae is always behind the curve, and can do little to help the humans adjust their own system to his/their benefit.
Name: Sang'regel "The Sweet Lady"
Gender: Female

(True)Appearance: Her true form is a hunched and scuttling creature with a wild and matted mane of red and white hair flowing behind her like a tail sprouting from her scalp. Sang's skin is grey and resembles something between craggy rock and battered iron, separated into segments as if it was banded armour. Her limbs and spine are lined with thorn like spikes that meet at the nape of her neck and run up the side of her harsh and angular face. Her features are sharp and haggard, with deep sunken black eyes and rows of razor sharp teeth.

(Note) As she becomes more used to people Sang'regel will start taking on a more human form, at least while people can see her. Her human form will look just as witch and crone like as her true form. As she grows in power both forms will begin to look taller and more beautiful (in her human form's case).

Personality: Sang prefers to lurk in the shadows and shirks responsibility and care of her works, despite being very possessive and demanding of them. She watches and studies the strange human things that brought her into being, finding their endless ambitions fascinating and thoroughly entertaining. Sang is drawn to civilization and bloodshed, the fight for survival against nature has no real allure to her, she prefers the flash of blades and the slow crawl of poison, as grand designs and schemes come together like the threads of an intricate tapestry or the broad strokes of a luscious painting. Sang'regel sees all these Machiavellian things as one great show, drinking them in as her own pleasures, finding enjoyment in mortal success and failures.

Domains:

+4 Murder/Assassination (starter) - Sometimes it's a done in the heat of the moment, as a crime of passion. Other times it's a cold and calculated strike in the dark. Others may fool themselves into believing that they fight for honour or higher causes but Sang'regel knows better. The first time man drew the blood of his brother was out of pure rage and blood lust and they have loved that feeling ever since.

+4 Blood Magic - As Sang becomes more comfortable and refined in her ways she begins to experiment with her power and the tributes she claims from her mortal acolytes. Blood magic is fueled by the life force of the user or an unlucky sacrifice. It's often used to enhance the user's own body or to ravage the flesh of another. The toll it takes on the user does not make it something to be used lightly.

+4 Domination - The ability to kill as you please is the ultimate sign of strength! And the strong will do as they please. All empires are made in blood and all order comes at a price, civilization exists because the strong minority can keep the weak majority in line. Willing or not.

Drawback:

-2 Life - Sang'regel was born in the death cries of humans, her existence is one of murder and the manipulating of those that she finds. She has no place in the giving of life and has little skill when it comes to creating living creatures of her own design, let alone sustaining them.
<spoiler=Seras - Mestizaje>Name: Seras, Miss Fortune
Gender: Female
(True) Appearance:
<spoiler=Seras>
Seras often appears to mortals as a see-through illusion, which can be difficult to determine if it's actually there or not. Her true appearance is that of a queen with flowing black hair, jewelry and a large crown on her head. She wears an exquisite dress that's been torn, and now reveals plenty of her skin. Where the dress has been torn and skin revealed she has scars, remnants of wounds she may have sustained once. She has leather boots with high heels, and carries a scepter that glows pink and blue. The scepter doesn't serve any real purpose yet other than adding to her royal appearance.
Seras is tall, and will always attempt to appear taller than anyone else, even if it means she has to change her height with the use of her powers. She likes looking down on people, and has cruel, calculating eyes.
Personality: Seras is subtle, manipulative, and prefers to remain in her own domain of dreams. In reality she'd just be an illusion, a rumour of what someone may have seen, but with no facts to back such a tale up. She's the recurring nightmare that gives people insomnia and keeps them up for nights on end. She's the inspiration an artist or inventor may have found in their dreams. She enjoys causing strife and mischief, and have no compassion for the mortal beings. Seras can inspire people at times, but she'd often have an agenda for it or expect something in return for such an act.
She's got a royal attitude to her, thinking herself superior and smarter than most, with little patience for others. She'd not make a good leader if she'd been one, as she is indifferent, snobbish and cruel. Seras could get along with others, and even make friends, but she'd hope to get something out of it in turn.
Domains:
+4 Dreams (Starter): Seras' main domain is that of dreams, where she can create anything, inspire anyone and make even the bravest fear her. She affects reality by showing mortals visions in their dreams to make them act like she wants them too. The visions may be benefitial for them, or threatening and show them what they hold dear destroyed. The visions do not need to come real, as long as the mortals believe they will.
+4 Psionics: Seras possesses powerful psychic abilites, which allows her to see into the minds of mortals, affect their emotions and thoughts for example. However, it can also be used to tamper with reality, the one perceived by an individual, or to make more permanent changes that would seem to defy any logic. It can be an effective offense and defense too. She has a penchant for illusions and hallucinations.
+4 War: Seras enjoys wars, especially causing mortals to go to war over petty excuses. To her, it's among the greatest things she can accomplish with the use of her psionics and dreams. Making a leader dream that another country is marching an army on them, when they're sending a peace envoy, can be quite entertaining. She can help the mortals advance their technology for war, if she wants too. Warriors may pray to her for aid, but the results may vary.
Drawback:
-2 Luck. As Seras finds it more fun to revel in the despair and misfortune of mortals, she sees no reason to help anyone with their luck or lot in life. If anything she might make their situation worse instead of better, so praying to her for an improvement in ones luck or life is a rather bad idea.
Name:
Meinir, The Smiling Sculptor
Gender:
Female
(True) Appearance:
Meinir has a rather strange appearance. Her eyes are as empty as the grin she bears on that face, which is nothing but a few features on a smooth, flesh-pink head. It is quite obvious that her form has nothing to do whatsoever with her gender as it lacks all sexual characteristics. If mortals didn't know any better, they would call Meinir a homunculus - an artificial being without soul. However, this is not the case. Meinir's flesh seems to have an almost elastic-like quality. It can stretch and shrink to form any shape found in nature. Although Meinir hides the majority of her form under a simple robe, she does not bother to hide the twist and turns of form her appendages constantly go through.
Personality:
Some spirits revel in their power, others are more sorrowful but Meinir takes pride in her work. Born out of the innate human desire to create, Meinir is in her element whenever she is crafting another work of art. As expected from this, she hates stagnation. The spirits who are simply happy to lord above humans are wasting their gift of power and the mortals who mirror that idleness blacken the name of human ingenuity. Most of the time, Meinir is serene, treating her creations and her followers like her own children, however, that doesn't mean she isn't afraid to shake things up! Either while on a creative high or low of solemn anger, she can be a force to reckon with.
Domain(s)
Flesh[footnote]Starter Domain.[/footnote] [+4]
: What better domain is there than that which lets one control the fleshly prisons of mortals? With this domain, Meinir can bend flesh to her will. She can even conjure flesh or beings of meat lest the supplies already present on the world seem lacking. With flesh, beasts see food but all Meinir sees is a bit of clay she can sculpt to her will.
Madness [+6]
: They say there is a thin line between genius and madness, and this goes doubly so for the creative types. Meinir is rather fortunate in the fact that she can share her own madness with others, sometimes giving fellow artists a boon to their imagination, so to speak. In addition to that, the power of madness can also extend to enchantments as well.
Art [+2]
: From time immemorial, humans have always expressed themselves with one form of art or another. Meinir, as stated before was created from the innate human desire to create. With this domain, Meinir can create and bestow a blessing of creatively on others or even inspire them to create great works.
Drawback:
High Tech [-2]:
Meinir cares little for the sciences and technology. She sees little point in them since why build tools of unliving stone and metal when she can simply change the fleshy forms of herself or mortals to do the job? In order words, she is too proud to admit that the complexness of high-tech machinery confuse her, causing her to reject it.
Name:
Gyll.
Gender:
Male.
(True) Appearance:
Gyll looks like a rather beautiful and tall human wearing an attire that looks like flower petals and leaves covered in gold and pearls. In truth, however, these are a part of his body, and cannot be removed without harming him. His appearance tend to easily draw attention to him, and he often appears to be shining.
Personality:
Gyll is the kind of spirit that will try to stay on as many people's good side as possible. He's friendly, has a sense of humour and aims to please. That is, as long as you don't stand in the way of what he wants. Gyll is greedy and without restrains once he finds a target he wants, be it gold or something else of worth, like information. He's fond of trading and building connections, though he'll easily enough break those apart should he need to. That said, he does have a sense of loyalty, and will often offer his help to whoever he prefers without any real gain for him.
Domains:

[+4] (Starter) Wealth:
Gyll has always managed to find and create material worth wherever he wants to. His domain is thus both granting and retrieving wealth, and he will have quite an amount of wealth himself.
[+4] Trading:
Every half-decent spirit knows that trading is the way of civilization, and Gyll understands the concept well. He can aid mortals with trading, but also use his skills to help himself, as a god of wealth ought to do.
[+2] Manipulation:
His silver tongue is often used to manipulate situations or beings so that he gains something. Because of him attempting to please as many as possible, the skill of manipulation is one he will need to make sure everything goes as it should.
[+2] Sun:
Gyll draws strength from the sun, and is stronger when the sun is in the middle of the sky than during the night. Even so, this isn't a domain that can be used with everything, as some tasks don't need increased power to be successful. (Teaching and talking, for example).
Drawback:

[-2] Destruction:

Gyll is bad at mindless destruction. If there's worth to be given something, he'd rather take it himself or alter it, rather than destroy it. Because of this, this drawback works when he has to destroy something of the material world without keeping anything/building something new there.
Name:Vortivask

Gender: Male

(True) Appearance: Vortivask's appearance closely resembles that of a mortal human - a bipedal being with a tall bulky physique, long hair and dark skin. His only distinctly inhuman feature is his eyes, which are a pair of metal orbs with glowing red pupils. His clothes consist of a double-breasted jacket and a toque hat, creating a rather odd contrast with his otherwise primal appearance. He looks stony-faced at all times.

Personality: A brilliant yet stubbornly proud god. Vortivask has a sense of superiority that often makes working with others difficult. He'll always want to go either his way or, failing that, the hard way. Vortivask respects strength of mind and will, and looks down upon those who don't display such qualities.

He holds himself to high standards and always drives himself to become better. Vortivask's determination combined with a stubborn mindset makes him an almost implacable creature when he's motivated. He'll often go to ludicrous or extreme ends to achieve a difficult goal.

Domains

Fire +4: One of the greatest natural tools. Not just for destruction, but for many other uses as well. Vortivask manipulates fire to assist primarily in construction or craft as a compliment for his other domains. That said, he's more than willing to use it for warfare if need be.

Craft Work +4: More practical than any artisan's painting and more beautiful than any crude technology - Vortivask has a great respect for the crafts. Metallurgy, masonry and especially cooking are crafts that he both finds useful and endlessly interesting. Vortivask's knowledge of craft work is the envy of mortals.

High-Tech +4: The future is gray. Though lacking the beauty of flame or craftsmanship, advanced technology is among the most powerful of tools. Vortivask possesses and understanding of technology and science far beyond that of any mortal. He can use this knowledge to create things beyond imagination, yet using only the most practical and non-magic of instruments.

Drawback

Diplomacy -2: Crude and unpleasant to most, Vortivask is not a creature of diplomacy. He is stubborn, difficult to work with and obnoxious in all manner of things. Even those who become friends with Vortivask may never get used to his uncharismatic, graceless personality.
Name: Nucdos
Gender: Unknown

(True) Appearance: His true appearance is a thing rarely seen by mortals, though everyone has a general idea. The most common thing about him is his large, baggy hooded robe that covers completely, trimmed with the white fur of a great wolf. A mortal, when looking at his face, will usually see that of a passed loved one, always smiling a calm, disarming smile. Underneath his robes are bones, human and wolf, leading to his skull. A god or special mortal will see it for what it is, a plain flat white mask with a single purple eye. In times of mass death; a war, famine, plague, he is seen in a worn silver breastplate and carrying a large hooked sword.

Personality: Morbid, inappropriate, yet entirely friendly. He sees all mortals as equals, and deeply loves each and every one of them. While life chooses few and grows tired soon, death will dance with anyone, and Nucdos loves to dance, and listen to stories, since life is dull and confusing when you only know the beginning and end. The elderly are his favorite, but he does love the boundless enthusiasm of the young.

Nucdos is also selfish, and stubborn. He follows his personal code and will never stray, unless he is given something of equal value in return. He is punctual, and he is unforgiving. His messages and rituals oftentimes are misinterpreted, or seen as contradictory and ignored. This frustrates him, and farmers usually live in fear of him, having to debate between sacrificing several animals or simply letting him wander off with their crops.

Domains:

Death +10: All things must end. Some before they're even born, others when old and withered. Regardless of how it happens, they will be met by Nucdos, and attended to on the Ethereal Plane. There is no favoritism, and Nucdos simply wishes to meet you. Preferably with a story on hand, but he'll always have his turn with you.

Fertility +2: Nothing can end without a beginning.

Drawback: Healing -2: Medicine is the ultimate form of stalling, and Nucdos sees no point in it. Everyone dies, and there's an ending to all things. Delaying only puts you further and further from his good graces...
Name: Nadur
Gender: male
(True) Appearance: Tall humanoid spirit with rough brown bark skin and willow like hair, falling to halfway down his back. 12 point antlers standing from his head and wolf ears on top of his head. His face pushed out like a muzzle and having a black nose on the end, several fangs jutting down out of his lips. His eyes are slit vertically and wide. His arms are long and end in thick fingers that hide large bear like claws inside that he can sheath and unsheathe. Torso thick and solid it looks like an oak tree trunk has been put there. Thin long legs ending in the hooves of elk.
Personality: judgmental and quick to take those he sees at face value he always faces the strong and lets those weaker than him do as they want. Fiercely loyal to any he has taken into his pack and wary of all outside.

Domain
Death +4: The deaths in the wild, animal carcases and dead plants. Their use by the living to continue on as they themselves are dying. Taking them and helping their spirits pass on, either to the next life and reincarnation or into oblivion.

Bonds +2: The bonds that hold pack members together. That hold the flock, the swarm, the herd. He makes the weak bonds strong for those willing and the strong ones weak for those unwilling to keep them.

Nature +6: From the hot deserts to cool mountains to rolling plains to the thick forests. Everywhere were nature abounds is where he can be found, if you're willing to look hard enough. Starting and main domain.

Drawback:
Deception -2: Deception of others by words or actions. Nature has nothing of this so he doesn't understand others doing it and can't do it himself. Affecting anyone or anything doing this is harder than even affecting things outside his domain.