Dire DM (+2 HD and a rend attack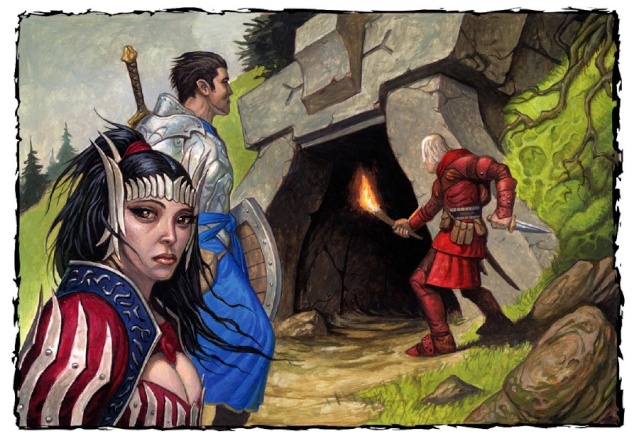 It's just another night in Diamond Lake. Outside you can hear the sound of St. Cuthbert's faithful, honoring their god with obedient self-flagellation to keep themselves pure; their cries reaching their crescendos every few minutes as a new faithful drops to the ground in exhaustion. Buried in the sound are the muffled grunts and groans as a local hobbit is mercilessly beaten by the bandit-turned-sheriff - Sheriff Cubbin - and his half dozen deputies per the new punishment for "theft".
However, you all find yourselves inside. Inside a tavern called "The Diamond in the Rough". "The Diamond" is packed - as per usual - with nearly a hundred patrons from all of the various mines, mostly because it's the only option. "The Emporium" is much nicer, but they only let the wealthy mine owners and operators in while "The Feral Dog" is much MUCH less so.
Fortunately, the ale is cheap - if watery - and the fire is warm. Several of the miner's have taken to playing a crude game of darts using some of the kitchenware and an old barrel. Others sit around the fire talking about one of their three favorite topics - what they did to deserve this hell, what they're going to do when they leave, and how much of a hellhole Diamond Lake is. Most lay at their tables in a drunken stupor, trying to dull the pain. Little more can be expected or asked of in Diamond Lake.
And then the door opened and the usual night became anything but.
The first to enter was a tall man. Tall, blonde, and apparently made of muscle. He was too clean to be a miner and too well armed and armored to be a guard. Around his waist was a gaudy belt that could only have come from Barovia. Immediately behind him a man of more reasonable size and stature entered. His long flowing robe and cloak marked him as either a mage of some sort or someone who wanted to look like one. Even his hair - facial and otherwise - made him look like one of those "dark wizards" of the legends. Almost unnoticed, the third of them entered, slipping over to the bar and the game of "darts" with nary a thought. The bow and quiver on her back and the sword at her belt marked her as not someone to be trifled with nearly as much as her obvious elven ears.
The crowd in the tavern quickly descended into whispers. It was obvious enough from their dress that they were adventurers or mercenaries of some sort, but the question as to why they were here alluded them. A few of the more fearful in the crowd began to whisper of "bandits killing them all". These rumors would likely have spread quickly were it not for the muscled adventurer dropping a large bag of gold on the table and shouting "I'll pay for a night of drinks to anyone who can tell me of the Stirgenest Cairn!"; drawing more than a dozen miners over immediately.
Not to be outdone, the "mage" began speaking quietly to those by the fire, asking for specific details about local cairns and promising coins rather than drinks. The elf meanwhile had begun chatting to the people playing the game of kitchenware-darts about a number of topics that all eventually lead to the topic of "Cairns"
Anyone who has spent at least a collective month of their life in Diamond Lake knows that the Stirgenest Cairn is one of the largest tombs in the wilds outside of town. Popular opinion is that it - like all the tombs - had been cleared out centuries ago by graverobbers.

Anyone with a Wisdom of at least 13 or a working knowledge of the "adventuring lifestyle" knows that - while the Stirgenest Cairn was indeed cleared out long ago, there's no way a trio of adventurers would trek all the way out here if there wasn't at least a chance of something good to find in one of the tombs

Anyone with an Intelligence of at least 13 or has lived in the town for at least 2 years knows that the Stirgenest Cairn is the most famous of the local cairns, but therefore the most explored. By extension, the most likely untouched Cairn is the Whispering Cairn as it's something of a "local secret".

Anyone with a Charisma of at least 13 or a power/trait related to reading people can clearly see that - based on their dress and mannerisms - these "adventurers" are definitely more interested in making a tidy profit from the explorations they have in mind than making friends.